Even if you've never painted a day in your life, you can count on producing beautiful works of art in no time with the help of Artist's Touch by Artamata.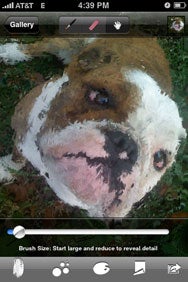 Simply choose a photo from the camera roll on your iPhone or iPod touch or take a new one with the iPhone's built-in camera. Artist's Touch will create a "blueprint," which acts as a guide for your brushstrokes while you paint. You can use oil paint, water color, charcoal, pastel, chalk, pencil, airbrush, pen and ink, or a scratchboard. Each medium is quite realistic and can be used in combination. Artist's Touch lets you control the opacity of your brushstrokes for even more realism. Choose from several textures to paint on—canvas, brick, cracked paint, mosaic, stone, and rough paper.
Once you've chosen the photo, medium, and texture you're ready to start painting. Just make your brush size large and start filling in the canvas. As you reduce the brush size, more detail will emerge until your masterpiece is finished.
The direction of your brushstrokes and the size of your brush coupled with the chosen medium will determine the overall style of the painting you create making for endless possibilities. You can also free hand your own painting without guidance from the app. Once finished, save your paintings to the camera roll, e-mail them to friends, or print them from the computer.
Currently on sale for half off its regular $10 price, Artist's Touch allows even the most inartistic person to produce beautiful paintings while providing realistic tools to those who are more creative.
Artist's Touch is compatible with any iPhone or iPod touch running the iPhone 2.x software update.
[Tim Mercer is a technology enthusiast, graphic designer, and blogger, whose blog, digital-artist-toolbox.com, offers free resources to the digital artist and graphic designer.]