Catpig Studios has released Radium, an XM Radio Online client for Mac OS X. A trial version is available for download. The software is priced at whatever you think it's worth.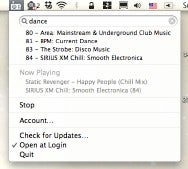 Radium is intended to be as unobtrusive as possible — the software appears in your menu bar, and stays out of the way unless you need it. It sports a search-as-you-type interface, similar to Spotlight, and lets you search by station number, name, description or genre. Updates are installed automatically.
The trial version lets you listen for 42 minutes at a time. Once you register — by paying whatever you think is fair — that restriction is removed.
System requirements call for Mac OS X 10.5 or later and an XM Radio Online account (you can sign up for a trial account for XM Radio Online).