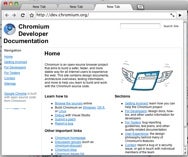 Who doesn't love screenshots of crashy, flaky, not ready for release software? Mike Pinkerton, co-creator of Camino and a developer on the Mac version of Google Chrome, has posted the first screenshot of Mac Chrome to his blog. Even more momentous, the screenshot itself is a picture of the very first Web page he managed to load in the browser. Awww, isn't it cute?
Google released the WebKit-based browser for Windows last year, and a Mac version was said to be in the works, though a release date remains unspecified. From the rest of Pinkerton's blog post on the development process, it doesn't seem as though it's due anytime soon, either.
Now mind you, clicking doesn't work, and the renderers crash like nobody's business, but the other great thing is that the user interface stays running even if they do. Just open a new tab and keep going! It's important to point out that's part of what's taken us so long to get to this point. The WebKit that ships as part of Mac OS X can't run this way—it took a lot of work to marshall it to do so. In addition, the UI clearly needs much love, but it's an indicator of the clean and simple direction we're heading.
Even though clicking doesn't work and the renderers crash frequently, the fact that the application keeps running means that the Mac version of Chrome is still better than Internet Explorer (I kid, I kid! Well, sort of). Oh, and if you're wondering what happens when a tab crashes, don't worry: it's no less adorable.