The iPhone comes with 19 stock wallpaper images pre-installed. But staring at the same satellite view of Earth, assorted flowers, or da Vinci's Mona Lisa day after day can get a bit dull. You know what might liven things up? Having the ability to search from among 50,000 background wallpaper images.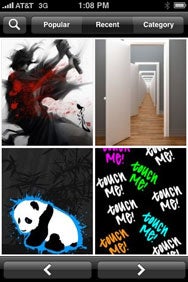 That's what Stylem Media offers with its free Backgrounds app. The iPhone and iPod touch program lets you find background wallpaper via Flickr, with new and original images added daily.
Backgrounds lets you browse by category, recent, or popular images; you also can search for specific pictures. Once you find some artwork that looks good, tap the save button in the upper right corner of the app—Backgrounds saves the image to your photo library. To select it as your wallpaper, just tap on the Settings icon, select wallpaper, and choose the picture you've downloaded via Backgrounds. And with that, you've got a panda bear on your iPhone every time you go to unlock it.
Backgrounds offers a seemingly never-ending amount of choices for your new wallpaper—everything from fuzzy bunnies to the Jolly Roger. A category search reveals sections for sports, nature, sunsets, hearts, flowers and more. Images are automatically scaled for the iPhone and iPod touch, and they're high enough resolution to allow some zooming or cropping and still look good.
Perhaps the most interesting aspect is that Backgrounds saves images to your photo library; so they can be used anywhere that library is available. Nothing says fun like changing your boss's address book picture to Darth Vader.
Backgrounds certainly won't be confused for an essential app—after all, you can use your own images as wallpaper if you find Apple's built-in offerings truly limiting. Still, it's hard to beat the depth of choices Backgrounds gives you, and, for a free app, it's a simple way to give your mobile device a little flair.
Backgrounds is compatible with any iPhone or iPod touch running the iPhone 2.x software update.
[ Jeff Phillips is an educator, podcaster, father, blogger, husband, photographer and general technology pundit. He has also been known to give the occasional Feng Shui consultation.]