Whether you think of Valentine's Day as a romantic occasion to proclaim your love for that special someone or a vast commercial conspiracy between the country's greeting card manufacturers and confectioners, the fact remains there's just a few ticks on the clock before February 14. So if you were hoping to load up on romantically-themed iPhone apps from the App Store, it's time to get shopping.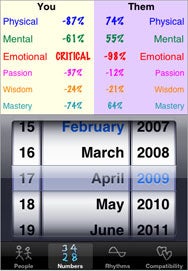 iSoulmate leads the parade of last-minute Valentine's Day additions to the App Store. In the words of app maker Point & Code the $2 iSoulmate "uses the finest principles of pseudo-science" to see if two people are compatible. That's a fancy way of saying that the app displays biorhythms—those periodic cycles that start when you're born and repeat until you shuffle off this mortal coil. iSoulmate lets you compare your biorhythms with another person to confirm whether or not the two of you are in sync; you can also use the app for non-Valentine's Day purposes, such as displaying what your biorhythms are on a particular day.
I Love You in Every Language from Mobility Games does about what it's name implies. Thee $1 app lets you wow your better half with romantic messages and personalized wallpapers in a variety of languages.
iPoet Sentimental generates sentimental poems for your valentine. Just enter the name and gender of your sweetie and a couple of traits, and Neuerung's app whips up a poem worthy of… well, a $1 iPhone app most likely.
(While we're on the subject poem composers, we'd be remiss if we didn't mention the newly released Touch Poet from Morgan Brown Consultancy. The $1 app contains snippets from classic poets and writers that you can rearrange into a poem of your own; publish the finished product on Twitter or e-mail it to your friends.)
I associate bunnies with Easter, not Valentine's Day, so clearly I've never read Valentine's Bunny. The $2 book from Silver Bunny Books is aimed at kids. While it features its own narrator, you're also able to record your own voice telling the story.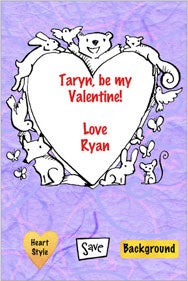 Add a personal touch to your Valentine's Day communiques—or indeed, any message—with Love Card from Smooth Landon Software. The $1 app creates a heart-shaped photo frame for images stored on your iPhone or iPod touch. Small hearts surrounding the frame move around whenever you jiggle your mobile device. Meanwhile, Create A Valentine from R. Cloud Software gives you a free tool for creating personalized valentines that incorporate the work of illustrator Steve Bjorkman.
Other less romantically-inclined apps that were recently updated or added to the App Store include:
Read more…
Got an app you've just released to the App Store? Drop us a line.