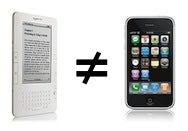 Ever since Amazon announced the Kindle 2, pundits and journalists have seemingly made a cottage industry out of doing two things: 1) explaining that, since it isn't an iPhone, it will fail and 2) listing the features it needs in order for Amazon to convert those selfsame pundits to Kindle lovin' fools.
Let's ignore, for the moment, that those same people derided the iPhone as an expensive toy when it was first launched and focus instead on the one thing that most 'people in the know' are overlooking. The Kindle, as a device, is immaterial to Jeff Bezos's stated goal of allowing people to access every book in every language in under 60 seconds. Sure, Amazon will gladly take your money for a Kindle 2 (I must admit that I pre-ordered mine while it was being announced, and I already own a first gen Kindle and a Sony Reader) but the secret to the Kindle isn't the device itself—it's the Kindle Store.
The Kindle Store makes it ridiculously easy to buy e-books. You push a button (thanks, one-click buying!) and around 60 seconds later there's a book on your Kindle. Browsing Amazon.com on your laptop and see a book you want to read on your Kindle? Buy it, and the next time you turn on your Kindle the book is automatically downloaded.
Compare that to the experience of buying a book for the Sony Reader: first download the Sony eBook Library Software (Windows only—sorry, Mac folk!), find the e-book you want in the slow and poorly organized store, click to buy it, wait for it to download to your PC, connect your Sony Reader to your PC, and wait for it to sync. The Sony Reader sure is pretty (and the newest, most expensive version even has a touchscreen), but looks aren't everything.
To be fair, you can browse Sony's e-book store on the Web, but whenever you click 'Want to buy this eBook' you're told to download the software first. Booooo.
So, what's the big deal about Amazon's Kindle Store, you say—it sounds just like Amazon. That is the big deal. You may not have noticed that the economy is generally melting into puddles around the world, but despite the econo-calypse Amazon's profits were up 18% this quarter. Amazon knows how to sell things, whether it be physical books, tents, kitchen appliances, or e-books. I bet you (and this is where we enter the land of speculation, so strap on your seat belts) that in the not too distant future you'll be able to buy Kindle books from Amazon on your iPhone. Better yet, you'll be able to sync your place in a book across multiple devices, and since you'll have your books on both a Kindle and an iPhone—no matter which device is with you at any given moment—you'll never forget your place again. Sounds like a killer implementation to me. (This speculation is slightly educated. Amazon has said it's working on getting Kindle e-books onto smartphones, though it didn't specify the iPhone.)
There you have it, folks. While Amazon might not sell a boatload of Kindles (and no, the Kindle will never replace your iPhone, nor was it even meant to compete with it) Amazon will make up the difference in volume…of e-book sales. Mark my words, people, I'm seldom wrong. And even when it turns out I am wrong, I seldom admit it—so really, I'm never wrong.