For skiers, few things match the importance of a resort's snow fall, weather, and trail map. Spectacular App's Ski Lodge displays this vital data in a beautiful, quick-to-read manner.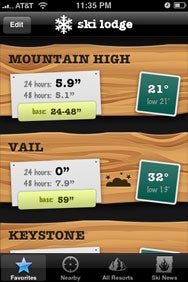 Ski Lodge features four tabs, but the favorites tab will be the one you turn to the most. It gives you a glance at your favorite resorts' snow level and weather. This type of easily-accessed information helps you quickly decide which resort to head to when you decide to go skiing on an impulse.
Spectacular App says it has data supporting nearly 500 resorts in North America, with plans to add Europe, Australia, New Zealand, and South America in the future. For each resort, Ski Lodge shows snow fall for the last 24 and 48 hours, the base depth, and current weather. Tapping on the resort brings up how many trails and lifts are open, as well as a trail map.
The app is very well designed. Resort information is clear and easy to read, which is ideal since you're usually accessing it on the go or on the slopes. Ski Lodge looks good, too—it uses a wood motif which resembles, appropriately, a ski lodge.
Ski Lodge would be just about perfect if it offered landscape views of trail maps—sadly, those only come in portrait form. Still, Ski Lodge was designed with a specific intent in mind: give people snow, weather, and trail data for ski resorts. It carries off that task very well.
Ski Lodge is compatible with any iPhone or iPod touch running the iPhone 2.2 software update.
[Kyle Baxter writes and publishes the Mac weblog TightWind.]