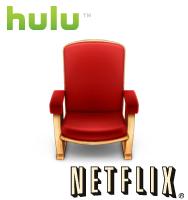 Watching video on the Internet is easy these days, with sources like Hulu and Netflix streaming, but unless you've got some sort of handy box hooked up to your bigscreen TV—like that Roku device or a hacked Apple TV—there's not necessarily an easy way to watch that content from the convenience of your couch.
If you don't mind hooking your laptop up to your TV, check out Understudy. This free little software package hooks into Front Row and adds the ability to stream video content from both Hulu and Netflix. Understudy allows you to add a variety of feeds from the two services, and even integrates with your own accounts so you can browse your Netflix Instant Queue or your Hulu subscriptions.
In my quick tests, it worked okay, though there were some shortcomings: the initial download of the feeds was a little bit slow, and since I wasn't logged in to my Hulu account at first, I had to kill Front Row from the Activity Monitor, log in, and then restart Front Row to get it to find my account feeds. Understudy also detected items in my Instant Queue that were no longer available for streaming (due to rights reasons), but it didn't denote that, instead just telling me it couldn't load the content. Also, the Netflix streaming isn't full screen, though that's being worked on for a future release.
So Understudy's far from perfect, but it's a promising prospect, and one that might be handy for people who hate watching streamed video on their computer screens.