Iron Man: Aerial Assault is a belated movie tie-in for the Iron Man movie designed for the iPhone by Paramount Digital Entertainment. Despite the slipshod level design, the game's clever utilization of the iPhone's motion-sensor controls enable it to be worthy of your money — but just barely.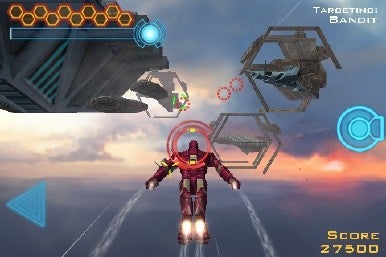 Iron Man: Aerial Assault tasks you with guiding the enigmatic hero as he performs a number of combat tests with his AI butler, JARVIS. If this doesn't sound exciting, you're right; it's not. While you get to witness the full power of the Iron Man suit over ten missions, the targets are little planes, unmanned drones, and gun platforms. They're hardly distinguishable and you won't recognize any of them from the movie. But if you want to use your imagination, pretend that the terrorists suddenly got ships from Star Fox and became sky pirates or something.
The game utilizes the iPhone's motion-sensor technology to guide your crosshairs, giving the game as surprisingly fluid 3rd person shooter feel. The primary way you can be damaged is by missiles that the LED highlights in red. You can counter these missiles by moving your crosshairs over them, and the suit will automatically fire countermeasures. By clicking on a button on the right, you can also utilize some of the laser weaponry of the Iron Man suit to take out ships and gun platforms. A button to your right lets you dodge incoming missiles but only a limited number of times per mission.
The major hurdle to learning Aerial Assault is mastering the motion-sensor technology. I had to calibrate the tilting mechanism a couple times before it became intuitive to tilt the iPhone and guide the crosshair accurately. The initial stages are difficult as you learn, and a two-part tutorial offers some basic (yet informative) guidelines. The first stages are difficult until you gain the shield ability, which enables Iron Man to absorb damage unless he takes two successive hits. Accompanied by at least eight health bars by that point, I found the later, longer stages were complete cakewalks.
The missions follow a very predictable pattern: you start out picking off whatever "new" enemy is being introduced into that stage, then you fly around a bunch of sky carriers with gun platforms and eventually you tackle the boss. Some of the later stages eschew introducing new enemies for stronger, more plentiful ones. As you progress, you also gain access to unlockable weapons, health upgrades, and increased maneuverability.
I initially was worried about seeing a dozen or so missiles launched at the same time, but by the time you're confronted with so many targets, the shield upgrade ensures its almost impossible to die. After completing the ten missions on normal mode, you unlock "hard" mode and the MK II suit, which comic fans will recognize as a prototype War Machine suit. Even with the unlockable content, its more of the same and doesn't have much in the way of replayability.
Iron Man: Aerial Assault has other marks of a movie cash-in. The soundtrack is short and I recommend just turning it off. The environments are cheap as well, with only background color differentiating the different missions. The small amount of dialogue is just a cliché-riddled distraction. All of these elements speak to the rushed nature of production, despite the game's release months after the movie's time in theaters.
Iron Man: Aerial Assault reminds me of an archaic fighter jet simulator game from years long gone. The interchangeable backgrounds, uncreative enemies, lackluster soundtrack and silly dialogue all hammer home this dated, but nostalgic approach to gaming. While I'd like to merely pass Aerial Assault off as a shallow cash-in, the gameplay is fun for a couple hours and at a dollar, you don't risk much in the investment.
Iron Man: Aerial Assault is compatible with any iPhone or iPod touch running the iPhone 2.2 software update.
[Chris Holt is an assistant editor at Macworld.]
When you purchase through links in our articles, we may earn a small commission. This doesn't affect our editorial independence.