Aria Haghighi's Shuffle Board was available at the App Store's launch. It's held a spot on my iPhone ever since.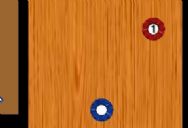 This isn't the iPhone's tribute to the mainstay pastime of cruise passengers; rather, it's a recreation of the table-based, pub-friendly version: The board is divided into four increasingly slim sections, ranging in value from 1 to 4 points. You place your index finger on the puck and slide, aiming to score as many points as you can — and to knock your opponent's pieces the heck out of the way. (That opponent can be the iPhone, or a fellow human.)
Graphics clearly weren't the focus for Shuffle Board's developers, and the visuals are merely average. Surprisingly, that doesn't affect the game's enjoyment factor: Gameplay and customization are excellent. You control the AI in a slider-based range from "Dunce" to "Devious," and other settings let you adjust friction, elasticity of puck collisions, and even the length of the board itself. Bumpers are an option, but I find that takes out half the fun. (Specifically, the half that focuses on fearing your puck is about to slide off the edge.) Of course, young kids and folks who just can't master the perfect flick might appreciate the extra help.
Gameplay is relatively quick, and Shuffle Board saves your progress if you quit mid-game. You'll find yourself slowly inching the AI slider towards "Devious" as your skills improve. And improve they will: The game's simple flicking mechanism and strategy are insanely addictive.
[Lex Friedman hopes you won't be bored shuffling through his blog .]