Apps like The Weather Channel ( ) and AccuWeather.com ( ) offer decently enough forecasts, but are fairly limited in providing radar views of the weather. The Weather Channel, for instance, only provides local or regional radar in video clips that are updated as often as hourly for the biggest cities in the U.S., but more commonly twice a day for smaller urban and rural areas. As for AccuWeather.com, its radar display is very basic.
For those who like to follow weather more closely, there are a fair number dedicated radar apps to fill the void. Three of the most popular are Radar In Motion, Weather Radar, and RadarScope.
As their $1 price tags suggest, Radar In Motion and Weather Radar are aimed at the masses—interested amateurs. RadarScope, priced at $10, appears to be designed with "professionals" in mind—perhaps meteorologists, but also those who might need the most up-to-date and reliable information available for their vocations or avocations.
None of these apps provide general weather forecasts or videos or even simple information like the current temperature. So if you want the most complete weather information, in addition to one of the apps reviewed below you'll need to add at least one general weather app or mobile web site.
Read more…
Radar In Motion is developed by KASoftware, which makes a Dashboard widget ( ) of the same name.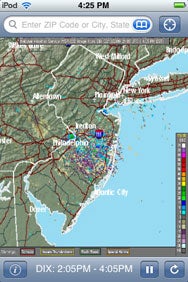 While Radar in Motion does an adequate job of pulling public domain National Weather Service information for a locality and smoothly displaying animated radar for that area, it's lacking in many features that seem desirable. Zooming, for example, results in a more heavily pixilated version of the same images, instead of more detail. Panning results in a black screen, a spinning wheel, and a fairly long wait time until a new map loads.
However, Radar In Motion does offer a good variety of maps you can display: composite reflectivity, base reflectivity, storm relative motion, base velocity, one-hour precipitation, and storm total precipitation. (For an explanation of how weather radar works and what these terms mean, see the National Weather Service's Doppler Radar page.) You can also create a list of your primary locations, and the app remembers the most recently viewed maps. Typing in a city or zip code results in a quick display of that location's radar. While this app is not powerful or sophisticated, it does do a good job of displaying radar maps, and is a bit easier to use and a bit more powerful than iWeathr.com, a free iPhone-friendly Web site that displays animated radar.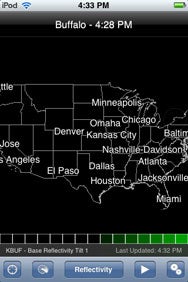 RadarScope from Base Velocity is the heavyweight here. It has very fast pan and zoom capabilities that enable you to view almost the entire continental U.S. on your iPod screen (with very legible major city names and radar station abbreviations). This allows you to check the radar in Seattle, then quickly pan over to Salt Lake City and then to Grand Rapids, Mich., to have a look at the conditions in those areas.
RadarScope accomplishes this speed by displaying only one radar station's data at a time—you're panning and zooming the map, but you only view the radar data when you select a radar station. After you've selected the radar station, images are displayed on a black background. If you then deselect the station's abbreviation, the program displays the names of nearby towns and cities on the map. (Base Velocity says there are more than 25,000 in its database.) The sizes of the cities are indicted, in a standard fashion, by the size of the type, and even the names of smaller towns are easy to read, in a white font on the black background.
Perhaps because RadarScope provides only the most basic geographic information—city and state names and state borders—it's very speedy with radar retrieval and display. On a basic animated reflectivity radar of Boston at 8:47 one morning, it displayed data images from 7:53, 8:02, 8:12, 8:31, and 8:41 a.m.—as current as possible. Within a minute, I was able to pan over to Buffalo and see conditions that had been updated at 8:44 a.m. Very impressive.
RadarScope enables you to view three different radar products: reflectivity, velocity, and SR velocity. You can only view one product at a time. You can also choose to view city names (or not), and switch "Expert mode" (which enables you to view clear air reflectivity) on and off.
RadarScope boasts some other thoughtful features. The city name and radar image times are displayed in a big, bold font at the top of the screen. You can tap on any color on the color code strip at the bottom of the screen, and the color's dBZ value (which reflects, generally speaking, the intensity of precipitation) is displayed in a pop-out box. The radar station's code (KBUF for Buffalo, for example), is also displayed at the screen bottom, as well as the time the radar was last updated.
Base Velocity says that RadarScope displays data from more than 140 weather stations in the 48 continental United States, drawing, in the developer's words, from "NOAA's public NEXRAD Level 3 data feed." It's a powerful application which could be improved in a few ways. It would be nice if you could view maps in landscape mode. This would enable you to view a map of the entire continental U.S., for example. (In portrait mode, the Northeast and Northwest are clipped off when the map is centered.) And it would also be convenient to be able to create a list of favored locations that you could access via the settings panel.
But these are relatively minor quibbles. RadarScope delivers fast, accurate, and easy-to-read weather radar. Also, based on both the comments from App Store reviewers and the developer's descriptions and documentation, the quality and display of the data in RadarScope enables those with meteorological expertise to extract and analyze information in ways not possible in other weather apps.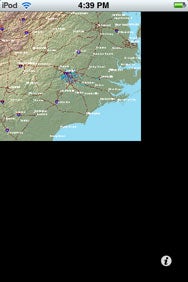 Weather Radar 1.1 from Exact Magic Software is the weakest of the trio of offerings discussed here. It offers animated radar that you can otherwise get for free on your iPod touch or iPhone using either Weather Underground's iPhone-friendly mobile site or iWeathr.com. You can save only one location. Zooming in on a location displays a more pixilated image, not more detail. Zooming out to view a region shrinks the image and places it in a corner of your screen, which is otherwise black. Exact Magic provides no documentation for the application, and the URL on the app's iTunes page leads to a page about the company's offerings for the iPod touch and iPhone offerings—though oddly, this list doesn't include Weather Radar. (Nothing on company's Web site suggests it sells or supports the app, but I did receive a response from the developer acknowledging that Exact Magic's Web site could use an update, and also that the company hasn't done much marketing of the app.)
Considering how little Weather Radar does, it has quite a few bugs, including a not-sensitive-enough "i" button for changing map options. About half the time, pressing the "i" button resulted in no response. This runs counter to my typical experience, which is that if anything, such settings buttons tend to be a little too sensitive. To its credit, Weather Radar offers very impressive ground maps, and enables you to choose to display topography, counties, cities, rivers, and highways.
Final thoughts
While I'd avoid Weather Radar for now, Radar in Motion's low price tag and variety of maps makes it worth a look by interested amateurs who are willing to overlook some performance issues. But if you're looking for a top-of-the-line radar app, you certainly get the most bang for your buck with RadarScope.
All three apps are compatible with any iPhone or iPod touch running the iPhone 2.x software update.
[Jeff Merron is a freelance writer and editor living in North Carolina.]