Along with the release of iWork '09 at Macworld Expo in January, Apple also introduced Keynote Remote, an app for the iPhone and iPod touch that lets you control your Keynote '09 presentation from your iPhone or iPod touch over a wireless connection. With a swipe of a finger, you can move to the next (or previous) slide in your presentation, and also view presenter notes or the next slide—but not both of those things at the same time.
To see how well Keynote Remote stacks up to other Keynote remotes, I compared it with both a free alternative (TapNext Lite) and a more-expensive option (Stage Hand). All three of these programs control only Keynote; they won't work with Microsoft's PowerPoint, and they won't work as general remote controls for other programs on your Mac.
Note that all three of these programs require a wireless connection between your Mac and your iPhone or iPod touch. This connection doesn't have to be over an existing public wireless network, though—an ad-hoc network with your iPhone and your Mac will work just as well ( this hint contains a script to automate the creation of an ad-hoc network).
Read more…
If you're looking for a truly basic Keynote controller, then TapNext Lite from CONIT may meet your needs. TapNext Lite talks to Keynote via a free companion program called TapNextReceiver that you run on your Mac. Launch TapNextReceiver and start its built-in server by clicking a button, then launch TapNext Lite on your iPhone.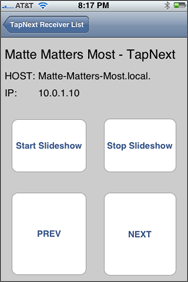 Assuming both devices are on the same wireless network, you'll then see the server running on your Mac. Tap that server name, and you're greeted with the screen at left…and that's all there is to it.
There aren't any configuration options, you can't actually see the slides you're presenting, there aren't any advanced features, and you can't work with more than one presentation in Keynote. (TapNext Lite merely launches the frontmost presentation when more than one are open in Keynote.)
If all you want is a remote "clicker" to navigate your presentation, TapNext Lite does the job well. But if you're looking for slide previews, presenter notes, or other such features, you'll want to use one of the other two programs.
Apple's$1 Keynote Remote doesn't need a helper application on your Mac. Instead, you pair Keynote Remote and Keynote on your Mac (a one-time process that's relatively easy). After pairing, you open the presentation on your Mac, launch Keynote Remote on your iPhone/iPod touch, and tap a Play Slideshow button to start the slides.
In addition to navigating between slides with finger swipes, an Options button lets you jump to the first slide (but not the last), end the presentation, and access the Settings panel.
The Settings panel is used to set up the initial Mac-iPhone link, change the orientation of the program from portrait to landscape, and enable or disable the display of presenter notes. As far as features go, that's pretty much the entire list for Keynote Remote—while it's more advanced than TapNext Lite, it's still a relatively basic Keynote controller.
To see your presenter notes, you have to use portrait mode display; similarly, to see the upcoming slide you must use landscape mode—there's no way to have both a preview of the next slide and your presenter notes on the screen at the same time.
This limitation wouldn't be quite so annoying if it were easy to switch from portrait to landscape view modes. However, unlike Safari and probably thousands of other iPhone applications, Keynote Remote is not accelerometer-aware—you can't change the view mode by simply rotating your iPhone in your hands.
Instead, you have to go through a multi-tap dance to switch the orientation: tap Options, tap Settings, tap Portrait (or Landscape), tap Done—and then remember you also have to rotate the iPhone in your hands. Why isn't Apple making use of the very technology the company created to make this process automatic? As a result, switching orientation while giving a presentation is much harder than it should be.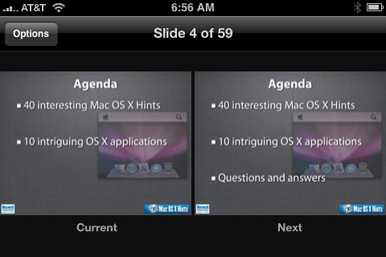 As noted earlier, slide navigation is done with a swipe of the finger. While this works well in theory, in practice, it's cumbersome, particularly if you use slides with a lot of manual builds (animations). That's because every manual build is shown as a separate slide in Keynote Remote, as seen in the image at right.
So if you've got a slide with ten manual builds on it, that's ten finger swipes just to get through one slide. If you're presenting a 60-slide deck with lot of manual builds, your index finger is going to be "swiped out" by the time you're done talking. (Keynote Remote is also sometimes slow to update its display, leading to extra finger swipes, as you're not certain if the last one "took" or not.) Although not nearly as "cool" as swiping a finger, the Previous Slide and Next Slide buttons in TapNext Lite are actually much simpler to use.
Keynote Remote is also light on useful features for presenters. There's no presentation timer, you can't jump directly to a given slide, you can't put the mouse pointer onscreen, and you can't black out the display. Also, if you've got more than one presentation open in Keynote, you can't control which presentation is shown in Keynote Remote—it always uses the frontmost window in Keynote.
Keynote Remote is a decent basic controller for Keynote presentations, and it does what it claims to do. However, its lack of advanced features and odd design decisions limit its effectiveness—it's a feature-limited remote control program that's harder to use than it should be.
Unlike Keynote Remote, Wooji Juice's $8 Stage Hand isn't lacking for features. It too connects via a wireless network, but instead of pairing with Keynote on your Mac, your iPhone connects with Stage Manager, a free helper application that runs on your Mac and manages the connection between the Mac and your iPhone or iPod touch.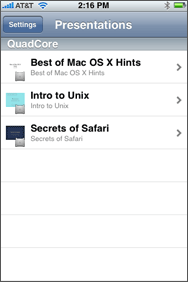 The main Stage Hand screen displays a list of all open Keynote presentations, showing the filename and title from the first slide of each presentation.
Tap any presentation's name, and Stage Hand presents a summary screen with a thumbnail of the first slide, the name of the host computer, the slide count, fields where you can set the starting slide number and timer options (off, count up, or countdown), and a Begin button to start the presentation.
Stage Hand works in both portrait (Notes View) and landscape (Slide View) modes, and displays different views in each mode. Unlike Keynote Remote, however, the view mode switches automatically when you rotate your phone, and there are two choices for what you'll see when using Slide View.
In Notes View, you'll see the presentation timer at the top of the screen; presenter notes for the current slide (in one of three selectable font sizes); an icon that shows the slide count, current slide number, and build count for the current slide; a toolbar with four buttons in it; and an Index button. You do not, however, see a preview of the slide itself.
The toolbar contains previous and next slide buttons (so you can switch slides without swiping), a screen blanking button, and a button that lets you lock Notes View regardless of how you may turn your iPhone. The Index button displays a thumbnail of each slide in your presentation, along with the title of that slide; you can jump to any slide by tapping on a slide in this list.
When used in Slide View, you move between slides (and builds on slides) with swipe gestures; just as in Keynote Remote, this quickly gets repetitive. The first (default) Slide View mode isn't all that special—you'll see an icon with slide and build information while a slide is loading; after the slide is loaded, you'll see the slide onscreen. You won't, however, see the presentation timer nor any slide notes in this mode.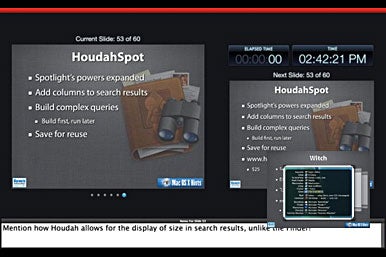 The second Slide View mode is much more interesting—after changing a preference setting, you can see Keynote's Presenter Display screen when in Slide View mode.
In this view, whatever is on Keynote's Presenter Display will be shown on your iPhone or iPod touch. This is the mode I really like, as it lets me see everything I see on the Presenter Display on my Mac. In my case, that's the current and next slides, the time, a timer, slide count, and any slide notes. Stage Hand will even add a preview of the next slide if you're on the second-to-last build of a slide, as seen in the image at right.
Unlike the screen on your Mac, though, this screen is static—it loads when the slide loads, and then doesn't change until you advance to the next slide. So while you'll be able to see the presentation timer, it won't change while you're on that slide. Similarly, while you can see your presenter notes, there's no way to scroll them, so if they're longer than the text box, you'll only see the text that fits.
Still, I really like this view mode; it offers most of the benefits of Notes View with the added information from the Presenter Display. The main downside is the need to swipe your finger to switch slides, instead of tapping a button as in Notes View.
In addition to the Presenter Display, Stage Hand's other really neat feature is only available in Slide View: the highlighter, as seen in the image at right (click it for a larger version).
The highlighter is essentially an on-screen version of the ubiquitous laser pointer, though it does a better job of highlighting items on a slide, as it dims the background around the highlight. The appearance of the highlighter—what type of highlight and how much to dim the rest of the slide—is controller in Stage Manager's preferences on the Mac, so it's not something that's easily changed while giving a presentation.
Enabling the highlighter is as simple as tapping the screen; once enabled, you can use pinch gestures to shrink or grow the highlight, and swipe your finger to move it around the screen. When you're done, another tap disables the highlighter. The highlighter worked really well in my use, though I do wish it were possible to make it even smaller, as even the smallest highlight circle is still quite large.
Overall, I was very happy with Stage Hand's performance and feature set; the developer has struck a good balance between complexity and usability.
Final thoughts
If you're looking for a simple Keynote controller, TapNext Lite certainly gets the job done. However, if you give more than one talk or so a year, you may find its lack of features quite limiting. For those who give many presentations, Stage Hand is the clear winner—it's miles ahead of Keynote Remote's limited features, and it worked very well during my testing.
Although you do have to run a companion program on your Mac to use Stage Hand, that's a small price to pay in exchange for the features you gain. Between auto-detection of rotation, the on-screen highlighter, a presentation timer, and the optional display of Keynote's Presenter Display, Stage Hand can handle even the most complex of presentation needs.
All three apps are compatible with any iPhone or iPod touch running the iPhone 2.x software update.
[Senior editor Rob Griffiths reviewed iWork '09's Numbers spreadsheet application for Macworld.com.]