Air Cam Live Video for the iPhone and iPod touch is a great application for viewing your live webcam feeds over local, Wi-Fi or 3G and EDGE networks.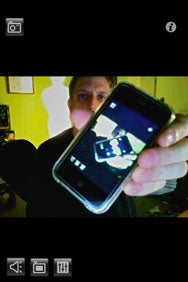 You'll need to download both a portable installer as well as a desktop client for either your Mac or PC. (The desktop software requires OS X 10.5 or Windows XP/Vista.) In fact, developer Senstic suggests installing the desktop software first to make sure that your webcam is compatible before you buy the $8 mobile app. (And yes, Apple's iSight camera is among the compatible cameras.)
Installing the software is a dream, and my setup was relatively flawless. You can optimize your feed by adjusting both the audio and the video.
Watching video over a local network was great, though I did notice two- to five-second delays. The image quality is far better than I was expecting however so I'd say that it is a small price to pay for such a minor lag.
Setting up your feed for viewing beyond your firewall requires a bit more tinkering, but the process to configure port forwarding is relatively painless as long as you understand some basic networking.
Aside from spying on your cat coughing up a hairball or making sure the nanny isn't stealing your silverware, there is not much else you can do with the application except save stills to your camera roll. Air Cam Live Video's page on the App Store suggest you can use the app as part of a home surveillance system. For that to truly be effective though, the desktop app would have to be able to alert you when it senses a change or automatically save the feed for later review. I'd like to see this functionality in the future.
As it is, though, the current version of Air Cam Live Video lets you stream webcam video to your iPhone with relative ease.
Air Cam Live is compatible with any iPhone or iPod touch running the iPhone 2.2 software update.
[Kyle Bailey is "Da Big Cheeze" at E-Cubed Media Synthesis, an experience design firm in Vancouver, British Columbia.]