Objective Decision on Wednesday announced Contactizer 3.7, a new version of their productivity management app for Mac OS X. Contactizer is available in Express and Pro versions for $54.90 and $119 respectively. Updates from 3.x are free.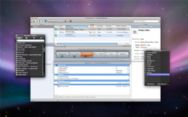 Contactizer is a personal information management application that helps you manage projects and track their progress. It automatically summarizes contact-related info, links e-mail info to your contact list, can tag contacts, tasks, events and communications with multiple category labels, provides meeting organization help and more.
New to the 3.7 release is a new standalone companion application called Dayboard. Dayboard provides a list of tasks, events and birthdays at a glance, even when Contactizer is closed.
Also new to the 3.7 release is the ability to define custom types for events and tasks, a QuickLook preview for the Attachment items and other user interface enhancements.
System requirements call for Mac OS X 10.4 or later.