Canon U.S.A. has introduced new PowerShot point-and-shoot digital cameras and a new Selphy compact photo printer.
Canon's new PowerShot line includes a total of ten new digital cameras ranging in price from $129.99 to $599.99. They're rolling out between March and May, 2009. Most of the new cameras feature Canon's DIGIC 4 image processor; "Smart Auto" which automatically adjusts settings including white balance, brightness, stabilization and exposure; blink detection; and "Active Display," which lets users scroll through pictures on their camera by gently shaking it rather than navigating using a scroll wheel.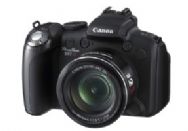 At the high end is the SX1 IS, a 10.0 megapixel camera feature 1080p Full HD Movie mode, 20x wide-angle optical zoom, optical image stabilization and 2.8-inch LCD display It can record in RAW and JPEG image formats and has a built-in HDMI connector for playing back video on an HDTV. It costs $599.99.
The SX200 has 12x optical zoom and optical image stabilization, and comes in three colors — black, blue and red. It has a 12.1-megapixel sensor and records 720p HD movies, has a 3-inch LCD display and will cost $349.99.
The D10 is a waterproof, freezeproof and shockproof camera that touts a 12.1-megapixel sensor and 3x optical zoom. It can handle underwater depths of up to 33 feet, is freeze proof from 14 degrees F and shockproof from up to four feet. It will cost $329.99.
New Digital Elph models — Canon's line of stylish and compact digital cameras — include the SD970 IS, SD960 IS, SD780 IS and SD1200 IS. They come in a variety of colors and each different model has different capabilities; the $379.99 SD 970 IS is the most fully-loaded model, with the others priced at $329.99, $279.99 and $229.99 respectively.
The PowerShot A series has been augmented with the A2100 IS, A1100 IS and A480 digital camera models — they're aimed at first-time digital camera owners or users looking for something a bit more sophisticated than what they have. They're priced at $249.99, $199.99 and $129.99 respectively.
The $99.99 Selphy CP780 is Canon's newest compact photo printer. It's designed for portability and ease of use, and is faster and produces better-looking prints than its predecessor, according to Canon — it outputs a 4 x 6-inch print in about 47 seconds.
The CP780 — a dye-sublimation printer — isn't aimed at general-purpose printing. It's specifically designed for photos. The printer has memory card slots, a USB jack and can also be used via Bluetooth when equipped with an optional $49.99 adapter. It sports a built-in 2.5-inch LCD screen and optional battery pack (which costs $79.99). What's more, the CP780 is available in three colors — silver, blue and pink — to match the newly-introduced PowerShot SD1200 IS Digital Elph camera.