At a Glance
Expert's Rating
Pros
Expanded ISO range
HD video
Great image quality
Great interface
Cons
New RAW modes have a slight color shift
Cheaper cameras available with larger feature set
Our Verdict
In December 2005, Canon released the EOS 5D, a revolutionary camera that offered a full-frame sensor (that is, a sensor that's the same size as a piece of 35mm film) for around $3,000. Most digital single-lens reflex cameras (SLRs) use a small sensor that "sees" only the middle section of a lens, effectively giving your lens a crop that's equivalent to a lens with a longer focal length.
When you put a lens on a full-frame camera, it works just as it would if you put it on a 35mm film camera—there is no focal length multiplier like there is when you use a camera with a cropped sensor. The larger sensor also allows you to achieve a shallower depth of field. Talk to any fan of the EOS 5D (which is mostly anyone who ever used one) and they'll extol the camera's ability to shoot images that have a film-like quality, a little something extra. It's a testament to the quality of the original EOS 5D that it stayed on the market for almost three years before Canon released an update, the new EOS 5D Mark II.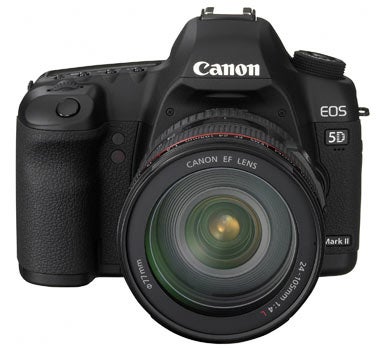 With the EOS 5D Mark II, Canon has made some significant interface changes, upped the pixel count from 12 to 21 megapixels, improved the high ISO performance and expanded the ISO range, and added the ability to shoot high definition video. The result is a great camera made better.
Interface changes
The EOS 5D Mark II follows the same design as its predecessors, going all the way back to the original EOS D30. Sporting a very simple control layout, the EOS 5D Mark II is a camera that you can easily operate one-handed if you have to, and adjusting all essential image parameters is very simple.
However, with the EOS 5D Mark II, Canon has made some small but significant changes to the design of the original EOS 5D. First, the back of the camera now sports a 3-inch LCD of exceptional quality. The LCD is a 920,000-dot VGA display, similar to the displays that Nikon has been using on its recent SLRs, such as the $5,000 D3 and the D300 ( ), and it's a great improvement over previous Canon LCDs. The EOS 5D had a 2.5-inch LCD; the Mark II's larger screen necessitated the rearrangement of some of the buttons on the back of the camera, and it might take current EOS 5D owners some time to get used to the new placement of the Playback and Delete buttons.
Users of previous Canon bodies will also need to adjust to Canon's rearrangement of certain functions on the top-mounted buttons. Some functions now sit on different buttons, and are controlled using different control wheels. While this can take some time to get used to, the result is an interface that makes it easier to change essential parameters, such as ISO, without taking your eye from the viewfinder.
The most important interface changes are the addition of custom modes and a Custom menu. The camera's Mode dial (which you use to select a shooting mode) now includes three custom modes; you can configure the camera any way you want, and then store that configuration in one of the custom modes. For example, I set up a special mode for shooting HDR. When I switch to that mode, the camera automatically goes to aperture priority and enables auto-bracketing and drive mode. Custom modes also make it easier to get to functions that are normally difficult to access, such as mirror lock-up.
A new Custom menu lets you create a menu with only items that you want. If you normally find yourself regularly switching between a few menus, this feature will save you a lot of time.
Image quality
With its expanded pixel count, the EOS 5D Mark II yields a 12.5-by-18.75-inch image at 300 dots per inch without any resampling. Obviously, you can make extremely large prints with this camera, and you can also crop heavily and still have a tremendous amount of image detail.
I've been shooting with an EOS 5D for years and have a good collection of lenses. All of my lenses held up just fine when I used them with the EOS 5D Mark II. The increased resolution did not degrade the lenses in any way, or reveal any hitherto unknown flaws.
The EOS 5D Mark II still has that special something that its predecessor had, and all of the advantages of a full-frame sensor. The camera's high ISO performance is exceptional, and Canon has expanded the range all the way to 25,600. The EOS 5D had a 3,200 option, but it produced very noisy images; on the EOS 5D Mark II, ISO 3,200 is very usable, and even ISO 6,400 is quite acceptable. The bad noise doesn't start until around ISO 12,800, and you may even find that to be quite useful, depending on your aesthetic and your final needs.
When compared to the EOS 5D, the EOS 5D Mark II is a few fractions of a stop darker at any given ISO. This will only be a problem if you're planning on shooting the EOS 5D Mark II alongside an original EOS 5D, in which case you'll want to adjust the ISO of one camera accordingly.
The EOS 5D Mark II now captures 14 bits per pixel, which yields images with more editing flexibility. You'll be able to push your edits farther before you see posterization and tone breaks. This is a very welcome addition.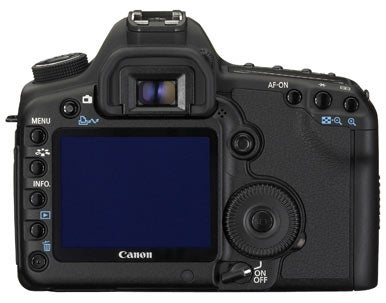 The autofocus system of the EOS 5D Mark II is an improvement over the EOS 5D's and definitely performs better. The camera spends less time hunting for focus in low light, but it can still be stymied by low contrast situations. All in all, the improvements in the Mark II are welcome.
Other nice changes include a faster burst rate—now around four frames per second—and a slightly quieter shutter. The camera has Live View, which lets you use the LCD screen as a viewfinder; Canon's implementation is not perfect—autofocus is still slow—but it's fine for most of the circumstances in which you'll use the feature.
Canon is still being stingy with certain features on the EOS 5D Mark II, the most annoying being the continued anemic three-step auto bracket. Cheaper Nikons boast far more features and more customization. To put it plainly, Canon is being careful to not cannibalize sales of its higher-end cameras, and this is a shame.
New RAW modes
Few people need a 21-megapixel image, and many shooters see these larger files as hungry storage eaters that require expensive hardware upgrades. When shooting in JPEG you can, of course, choose to shoot at lower pixel counts. With the EOS 5D Mark II, Canon has also added two new RAW file format options, which allow you to shoot at half and quarter sizes. These files still provide all of the advantages of RAW 16-bit files—white balance editing, highlight recovery, and so on—without consuming tons of storage space.
The downside to the new RAW formats is that they exhibit a slight color shift when compared to the full RAW format. For event shooters who were hoping to shoot some pictures at full size and others at the smaller sizes, this color shift can make for some additional editing.
Video
The EOS 5D Mark II has received a lot of attention for being an SLR with HD video recording capability; you can capture 1080p video with sound. Why use your still camera to capture video? Obviously, convenience is a huge factor; carry just your SLR and you can capture both high-quality stills and video. But shooting video with your EOS 5D Mark II also offers the option of lens selection. With the camera, you can shoot with extremely fast lenses for shallow depth of field, or specialized lenses such as tilt-shift, or extreme telephotos.
The other advantage to shooting video with the EOS 5D Mark II is the camera's exceptional low light capability. The same sensitivity that allows you to shoot stills in low light makes it an ideal camera for shooting video in situations that would challenge a dedicated video camera.
Some EOS 5D Mark II users have complained about shutter roll when panning the camera. This causes the top of the frame to pan at a different speed than the bottom, resulting in distortion of the image. I encountered slight shutter roll on a few shots, but couldn't get it to happen all the time. There's no way to fix shutter roll in post, and it's definitely a problem you won't experience on a decent HD video camera.
Canon has very wisely added a mike jack for attaching an external microphone, and several vendors already sell hot-shoe microphone mounts. There's also an HDMI output, so you can connect the camera directly to an HDTV. Also nice is the ability to fire off stills while the camera is recording video (although this does interrupt the video for a second or two).
What Canon has not included are any kind of manual controls when shooting video. So, though you may have an f1.2 lens, you might have trouble getting the camera to shoot with it wide open. Similarly, without manual shutter speed control, you might find that the camera sometimes chooses a shutter speed that's not the best for your subject matter or camera moves.
You can trick the camera into choosing specific exposure parameters, and if you have Nikon lenses with aperture controls on them, you can adapt them for use on the EOS 5D Mark II. These are clunky (and potentially expensive) workarounds. Canon may be worried about cannibalizing its video camera sales, but it shouldn't be. The shooters that I know who are excited about the video possibilities of the EOS 5D Mark II were never going to buy a video camera in the first place.
Specifications
| | |
| --- | --- |
| Resolution | 21.1 megapixels |
| Battery Type | Rechargeable lithium-ion battery |
| Media Slots | CF memory card |
| Size in Inches (wxhxd) | 6.0 x 4.5 x 3.0 |
| Weight (oz.) | 28.6 oz (body) |
Macworld's buying advice
Like its predecessor, Canon's EOS 5D Mark II is a great camera that offers exceptional image quality and a great interface. I'd like to see a few additional features (better auto bracketing and an intervalometer, for starters) but these are quibbles. For users who've been wanting a full-frame SLR, there's no doubt that the EOS 5D Mark II is a great option. Kudos to Canon for taking a great camera and finding ways to make it better.
For current EOS 5D owners, the question of upgrade is tricky. But if you need big prints, then the extra pixels that the EOS 5D Mark II provides are well worth the price. Similarly, if you shoot in low light, or want video capability, then the expanded ISO and video features will be dealmakers. If you're mostly satisfied with your EOS 5D, then you might not need to spring for the latest generation.
[Macworld senior contributor Ben Long is the author of Complete Digital Photography, fourth edition (Charles River Media, 2007). More of Ben's work can be found at Complete Digital Photography.]
[Editor's note: Updated 7:48AM PT on 2/19/09 to correct ISO information.]