Love it or hate it, Adobe's Flash is one of the Web's most prominent technologies. But when Apple released the iPhone in 2007, support for Flash was conspicuously absent from the device's Web browser. Since then, the lack of Flash on the iPhone—and whether it's more detrimental to Apple or Adobe—has remained the topic of an almost constant speculation, peppered with occasional volleys from both companies.
While the back-and-forth between the two has yet to escalate into an out-and-out conflict, reading between the lines makes it clear that there's more than a little disagreement over the future of Flash on the iPhone—or whether indeed it even has a future.
Read more…
In March 2008, during Apple's annual shareholder meeting, Steve Jobs was asked about Flash and his response was textbook Jobs: Adobe's desktop Flash program was too intensive for the iPhone, and its mobile-oriented Flash Lite product just wasn't good enough. "There's this missing product in the middle," Jobs told Apple shareholders. "It just doesn't exist."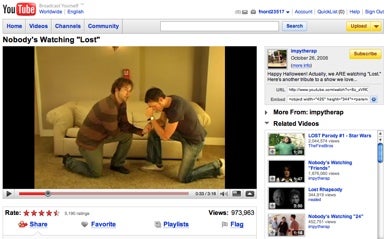 Anybody who's spent time with Flash on Mac OS X has probably noticed that it's an incredibly intensive piece of software, especially compared to its Windows counterpart. The software can bring even capable machines to their knees, ramping up their processors and devouring their free memory like a half-starved piranha. Such resource use has, to put it lightly, a negative impact on performance—especially on battery life, something that's even more of a concern on a mobile device like the iPhone. For what it's worth, Adobe is cognizant of these factors. In a recent interview with Bloomberg, Adobe CEO Shantanu Narayen called Flash on the iPhone "a hard technical challenge", which is a bit like saying that Lost is a "little" convoluted.
There's also the matter of the limitations of iPhone development. It's widely known that the language of Apple's iPhone SDK agreement prohibits developers from using interpreted code other than what the iPhone already has baked in—that covers everything from BASIC emulators to Java virtual machines, and yes, Flash. Of course, since Apple's the ultimate arbiter of the development terms, it could certainly choose to let Adobe sidestep them, but the bottom line is that Adobe isn't going to be able to create Flash for the iPhone without Apple's explicit approval. "This is definitely something Apple and Adobe will have to partner on," said Michael Gartenberg, vice president of strategy and analytics for media and technology research firm Interpret.
Besides the issue of intensive resources, there are other reasons that Apple might not be thrilled by the idea of Flash on the iPhone. For one thing, it opens up the possibility that developers could write programs for the platform in a language other than Apple's own anointed Cocoa. Apple's shown it wants to have complete control of the iPhone platform, and it's not going to make a move that cedes even a little bit of power to another company.
That's where we veer from the technical realm firmly into the world of politics. The Web is saturated with Flash, used by everything from banner ads to full-on games featuring animations, video, and sound. Web-based video is commonly delivered via Flash, with popular sites such as YouTube, Hulu, Vimeo, and Flickr all depending on it.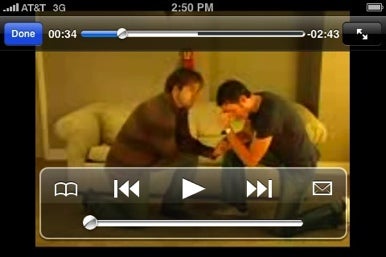 That hasn't gone unnoticed by Apple, which has long been pushing its own QuickTime technology as the go-to choice for online video and audio. The company wouldn't exactly cry over Flash's demise, especially if that meant the tide of Web multimedia shifting toward QuickTime, and that's one reason Apple's in no hurry to implement Flash on its wildly popular mobile device. The company convinced YouTube to re-encode its video library in the H.264 video format for use in the iPhone YouTube app. Other content providers, such as Major League Baseball—which uses Microsoft's Silverlight on the desktop—have also opted to provide video in iPhone-compatible formats, showing the clout that the iPhone's prominent position can command.
With the ball in Apple's court, the question becomes just how desperate Apple is to have Flash on the iPhone. "It's [Flash] been cited as one of those things people are missing out on with the iPhone," says Interpret's Gartenberg, but he qualifies that, "At the end of the day, most of the uses for Flash are for video like YouTube and the iPhone already has YouTube. It's not exactly critical."
That answer would seem to be "not very desperate at all." The iPhone is more a year and half old at this point, and while there does seem to be a constant low-level buzz about the lack of Flash, that absence doesn't seem to bother users nearly as much as other shortcomings, such as the lack of copy-and-paste functionality or even picture messaging. And with iPhone sales of 17 million and rising, it's hard to imagine that there are a bevy of potential customers holding out for Flash support before they buy Apple's phone.
Some suggest that Flash is necessary to give the iPhone experience parity with desktop computing. But these days, the capabilities of other Web technologies such as AJAX (which involves a combination of dynamic HTML and JavaScript) can accomplish a lot of the functionality that used to force Web developers to turn to Flash. Plus, AJAX has the benefit of being compatible with all major browsers, including MobileSafari, without the need for plug-ins and it costs little in terms of overhead.
If there's one reason that Apple would want Flash, it's the self-propagated image the iPhone is the only device that gives you the whole Internet, not just a watered-down version like other mobile browsers, despite the fact that Adobe's made a hard play to bring Flash to many competing smartphones.
For the moment, though, there appears to be no pressing reason for Flash on the iPhone. If there were scads of prominent Web sites that were only available in Flash, Apple might find itself tempted to acquiesce, but with the preponderance of sites specifically tuned for the iPhone and the lack of vocal Flash proponents beyond Adobe itself, Apple has little incentive to bend over backward for what, in the end, may be a bigger help to Adobe.
Editor-at-large Jim Dalrymple contributed to this report.