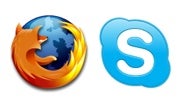 Following up on Apple's objection to a proposed DMCA exemption for jailbreaking cell phones, two major software vendors, the Mozilla Corporation and Skype Communications, have filed their own papers in support of the proposal by the Electronic Frontier Foundation (EFF).
In its three page statement (PDF link), the Mozilla Corporation argued that users should be allowed to jailbreak their handsets in order to use legitimately acquired software. The company also took the position that the exemption would promote "open access" to the Internet by letting users download and install the Web browser of their choice. Which might be, I dunno, Firefox. I'm just saying.
Likewise, Skype—maker of the eponymous voice over IP program—is throwing in its two cents (PDF link) by saying that users should be able to use non-harmful devices of their choice, loaded with non-harmful software of their choice, on wireless networks, even if those programs or devices could harm the business plans of the network carriers. Like, say, the low- or no-cost long-distance and international calling that Skype offers. Skype says that it's previously demonstrated its support for both "no locking" and "no blocking" policies that were adopted by the Federal Communications Commission (no word on their stance on the controversial "no rocking" issue).
While both companies tout openness and access as part of their statements, it's hard to overlook the fact that they both stand to gain from the exemption, since it would give them the legal standing they need to justify creating what would certainly be popular software programs for the iPhone and other handsets. So even if theirs are good intentions, just remember that it's not pure altruism at work here.