Let's face it: any game where you kill zombies has its merits. Enter Aim for the Brain, a quick, fun title for the iPhone and iPod touch developed in conjunction with Westlake Interactive and PerfectDork Studios.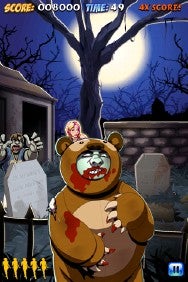 The title sort of explains it all. Open the game, choose one of three levels ("Alleyway", "Cemetery" or "Hospital"), choose a difficulty level ("Easy", "Normal" or "Hard") and begin shooting zombies as they duck out behind doorways, sewer grates, headstones, hallways, ceiling vents, etc. The zombies don't inflict damage to the player and can be shot or left alone, but you need to check your fire when innocent civilians duck out from behind objects. Hit enough civilians and the game ends. The higher levels afford you less breathing room as three slain civilians on the "Hard" setting end the game.
The developers did their homework with this title and it shows. A blend of smooth, polished graphics and imaginative character designs among the 20 types of zombies lends a tongue-in-cheek humor to the game. Yes, there are the conventional zombie types with the gray skin, rotten limbs and semi-exposed brains, but there are also some humorously crafted zombies such as the undead in bear and clown suits that help make up the cast.
Aim for the Brain's sound and music round out the environment and lends an undeniable sense of fun to the game via its crunchy, squishy sound effects. Between comical guttural moans from the undead to the screams of innocent civilians accompanied by the energetic-yet-creepy music, the audio elements work perfectly and make the title that much more fun.
Even if Aim for the Brain isn't much more than "Whack-a-Mole with Zombies" for your iPhone or iPod touch, the game knows what it is, is well crafted and delivers a fun experience. Responsive controls react well to the multi-touch interface, the application runs without hiccups or errors and there were no perceptible breaks in the game's frame rate during game play.
While there's really nothing to improve upon and the game more than validates its $1.99 App Store price tag, some additional bells and whistles to the title wouldn't hurt. More weapons, additional levels and an online scoreboard would make a good thing that much better, even though the game is off to a great start considering how close it is to version 1.0.
Aim for the Brain! doesn't break new ground or define new territory but understands itself for the silly, quick iPhone tap-shooter it is and is a solid, well-crafted title that helps kill a few free minutes. For two bucks on the App Store, you can't go wrong and I look forward to seeing what Westlake Interactive and PerfectDork come out with next.
Aim for the Brain! is compatible with any iPhone or iPod touch running the iPhone 2.x software update.
[Chris Barylick is a frequent contributor to Macworld. He is currently working on the best possible zombie apocalypse plan and gladly accepts suggestions for this at chrisbarylick@gmail.com.]