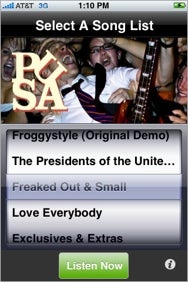 Seattle startup Melodeo has just released a $3 iPhone app that gives its users access to the entire back catalog of The Presidents of the United States of America. That means all four albums as well as "rare, exclusive material," all of which can be updated from the server side.
Why this particular group? Well, because one of Melodeo's VPs is none other than Dave Dederer, the founder of PUSA. The former frontman told Wired's Epicenter that the iPhone app store offers an opportunity to pimp music before it gets released to the mainstream, an alternative to "paying tens or or hundreds of thousands of dollars … to get the album in heavy rotation on the radio." Dederer also said that integration with the iTunes Store is an advantage as well—the application only lets you stream the music, so it can provide a link to pre-order the album.
If Dederer is right, this model could indeed represent a serious shift in the way that new music hits the streets. This isn't the first band to offer an iPhone application for listening to their music: indie rock band Death Cab for Cutie has a similar program available in the App Store, though it only features a selection of the band's work.
I wonder if maybe entire record labels will collaborate to offer up a sampler of upcoming bands. Hell, I'd def pay a few bucks to check out the newest releases of say, Matador Records.