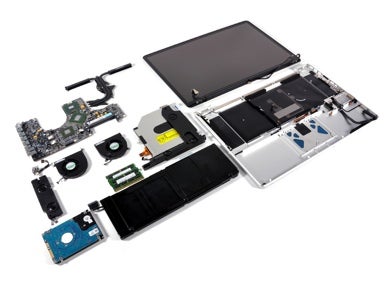 As always, when a new Apple product ships, somebody has to render it into all of its discrete components. This time, it's the 17-inch MacBook Pro, which has finally begun shipping. The folks at iFixit have taken apart Apple's huge new pro-level machine and noted a few interesting details.
Of course, the major focus of the 17-inch Pro is the brand new battery that Apple devoted an entire video to at the Macworld Expo keynote. The battery is pretty big: at 1.25 lbs, it accounts for about 20 percent of the computer's weight. System Profiler says the battery's capacity is an impressive 12,820 mAh (by comparison, my 13" aluminum MacBook's full charge is currently 4165 mAh).
And, of course, the big question: Apple says the 17-inch MacBook Pro battery isn't user-replaceable, instead the company offers to swap it out for $179. But as anybody who's spent some time inside a computer knows, just because the company says something isn't replaceable doesn't mean you can't. In this case, it just means that after you remove the ten screws holding the case on, there are three more securing the battery, as well as a sticker telling you not to remove the battery—ha! As if that will stop people. Then again, it's probably booby-trapped.
Overall, the iFixit team reports that the 17-incher is a very solid machine, with far less flex to it than its predecessor, thanks to the Unibody construction. Just don't drop it on your foot—that would probably hurt.