Ever wanted to take to the streets of European cities like Madrid and Athens behind the wheel of a high-powered Italian race car? Now you can thanks to Ferrari GT Evolution by Gameloft.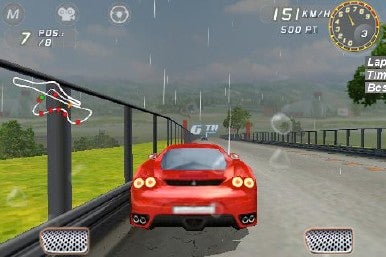 The game tests your skill handling the massive horsepower of purebred Ferrari sports cars — 33 different models in all, everything from classics like the Testarossa and the 250 GTO to newer models like the California and the F430. It's more than just a cosmetic difference — each car handles a bit differently, with different acceleration and handling around corners.
The game's Career mode puts you in the role of an up-and-coming racer on a street racing circuit. You can engage in races for money; the higher you place and the better you do, more races will be available to you. You can also use your income to grow your garage with new Ferrari models. If you're impatient to take the most expensive machines for a drive, you can do that in a test drive mode, though you won't be rewarded for it.
Read more…
A Quick Race mode helps you get in the action instantly. You can choose from any of the cars or race circuits you've unlocked in the Career mode. You can also adjust parameters like race type (time attack, normal, a point race where you rack up points for drifting and overtaking opponents, and the elimination-based last man standing), number of laps and number of opponents to race against.
Ferrari GT Evolution features three different control modes — you can steer with your finger using an on-screen wheel; tap in the direction you want the car to move, or turn the iPhone or iPod touch using the accelerometer. Auto acceleration will automatically control your vehicle's speed (you can turn this off if you want to work the gas pedal yourself) and there are options for adaptive steering, electronic stability, anti-lock brakes, ceramic brakes and traction control.
Forget about manual transmission action, though — there just isn't enough room on the screen. For that matter, doing just about anything but braking is an exercise in frustration — the screen simply isn't large enough for you to effectively manage a lot of the car's control. I even found driving with the wheel or using the tapping method to be more frustrating than challenging. It took more time than it should have to get the controls to my liking.
When you've got the car configured the way you want and you're happy with the control scheme, Ferrari GT Evolution offers you a great deal of challenge. It marks your best line on the road, and will also warn you of upcoming hazards like hairpin turns, or show you your opponents almost before you can see them. A variety of camera modes lets you either go inside the car or behind it at varying lengths, and sound effects really immerse you in the action. Static loading screens show you glamorous close-ups of Ferrari automobiles and quotes from Ferrari luminaries about the lifestyle and concept behind their expensive products.
The game also tracks your statistics, showing you how much you've raced, races won and lost, best lap times and more. You even have a trophy room to show you the achievements in the game you've unlocked.
Ferrari GT Evolution also has a multiplayer mode, though as of the version that I reviewed (1.2.2), it was limited to iPhones or iPod touches working off the same Wi-Fi network. Gameloft promises to deliver an online multiplayer mode that will let Ferrari GT Evolution gamers from around the world to compete with one another.
Graphics are quite crisp for an iPhone game; the texture-mapped buildings reveal lots of pixelation when you're close up, but as you're speeding down the road you don't notice all that much. There are also dynamic weather conditions; virtual rain will even bead up on the iPhone's screen.
Gameloft has created a very ambitious racing game with Ferrari GT Evolution. While it sometimes feels more like an advertisement for Ferrari products than a game, there's a lot to recommend it. But the ambition of the game sometimes exceeds the platform's ability to deliver. Much like Ferrari cars themselves, there's almost too much under the hood here for most people to be able to enjoy.
Ferrari GT Evolution is compatible with any iPhone or iPod touch running the iPhone 2.2 software update.
[Macworld Senior Editor Peter Cohen has never driven a Ferrari in real life, but with all the gaming he does, he has hundreds of hours in simulation.]