PlayFirst on Thursday announced the release of Emerald City Confidential a new casual game for the Mac and PC. It costs $20. A demo is available.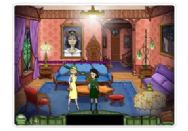 Using L. Frank Baum's beloved Wizard of Oz story as the backdrop, this adventure game puts you in the role of Petra, a down-on-her-luck private investigator in the city of Oz. You go on a quest as you unravel "a conspiracy of magic and intrigue," interacting with characters including the Scarecrow, Lion, Dorothy and Toto.
You follow a case through five chapters, examining puzzles, interviewing witnesses, reviewing suspects and making allies along the way. Emerald City Confidential features more than 50 environments to explore, 36 character to interact with and more than 6,000 lines of spoken dialogue.
System requirements call for Mac OS X 10.4 or later, G4/800MHz or faster, 256MB RAM, 800 x 600 resolution, 100MB hard disk space.