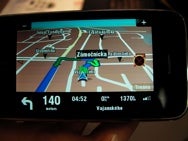 A friend of mine has been longing for a smartphone for years, but he's continued to hold off on the hopes that when he does eventually get one, it will do absolutely everything from making phone calls to preparing grilled cheese sandwiches. Phones these days have gotten pretty close to his ideal, but they still lack one key ingredient for him (besides the sandwich-making), and that's GPS-based turn-by-turn directions.
The iPhone's built-in Google Maps are serviceable for many purposes, but if you've ever used an in-car GPS system with automatic rerouting and a snide British voice telling you when you've taken a wrong turn, you'll know that it falls short in many places. Last July, Apple VP Greg Joswiak said that he expected that hole in the iPhone's functionality to be filled eventually, but that there were technical obstacles.
The obstacles appear not to be just technical either, as some reports indicate that Apple's SDK terms prohibit such features on the iPhone, though some this may possibly be because of Google's own terms of use for Google Maps, which restrict using the information for "real time navigation or route guidance, including but not limited to turn-by-turn route guidance."
This doesn't appear to have stopped some developers. At this year's Mobile World Congress held in Barcelona, Sygic showed off a prototype turn-by-turn navigation app for the iPhone, including voice prompts and automatic route recalculation, though it only contained maps for Europe. Sygic—which has developed similar applications for a number of other platforms, including many cell phones—says that it plans on submitting the program to the App Store, just to see how the cookie crumbles.
Sygic's not the only company interested in the GPS market, either. A company called XRoad has had two GPS applications on the iTunes Store for a couple of months now; however, the apps don't feature voice prompts or live turn-by-turn directions, and the user reviews of the product have been heavily mixed. Last June, GPS unit maker TomTom also said that it had an iPhone app ready to go, but as of yet, that software has yet to materialize.
It would seem likely, per Joswiak's comments if nothing else, that some sort of official turn-by-turn direction system is coming to the iPhone eventually, whether it be via Apple or a partnering company.