Do you Twitter? If so, you might want to Yammer too. Think of Yammer as Twitter for the enterprise. It is completely separate from the Twitter network, but is essentially the same type of micro-blogging service. Any company can start using Yammer for free right now. You can eventually pay to upgraded the service.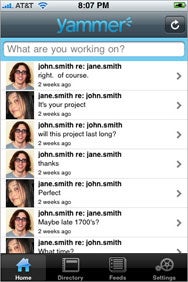 Once your company gets set up, your next step should be to install the mobile Yammer app for your iPhone. The free app from Geni works as well as the desktop client, showing all posts, profile pictures, replies, and more. Since Yammer (unlike Twitter) provides the capability to create groups, you can use the iPhone version to view the full Yammer feed as well as each group feed. They even provide a complete directory feature, so you can see each yammering colleague, choose to follow them, and grab their e-mail address.
The application works as designed. There are no real differences between what you can do on the Yammer app versus the desktop client. It is very responsive in both pulling down the latest yammers as well as sending your updates out to the enterprise.
One minor quibble: When entering text for a new message, the text entry field does not wrap, leaving you with one long horizontal line of text. That makes it difficult to review and edit the message before sending.
Yammer on your iPhone opens a new world of corporate communications. In a sales meeting and desperate for a key fact? Post it on Yammer and get immediate answers from anyone online. Are you a CEO stuck in an airport? Jump onto your iPhone and get a quick pulse check of your company's activities today.
Like most iPhone messaging applications, the one feature that will improve Yammer is background notifications. Ideally, the app would alert me in the background if a new message comes in. And it would be nice if the developer would auto-update the icon too. But that feature depends on the iPhone having push notification capabilities in which an app could receive information over a network even if it's not running. We'll have to wait for Apple's promised push notifications to arrive, before we clamor at Yammer for this.
Yammer is compatible with any iPhone or iPod touch running the iPhone 2.x software update.
[Jeffrey Hatton is a freelance writer living in Virginia.]