Like many people these days, I find myself stretching a dollar further than before. However, doing on-the-fly price comparisons in my head—determining if a 24-ounce box of cereal at $3.24 is a better deal than an 18-ounce box at $2.86—is near impossible. Fortunately for the mathematically challenged among us, the $2 CompareMe can do the calculating for us.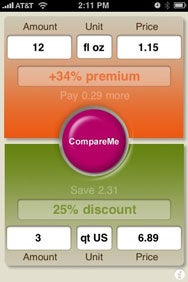 Codedifferent's CompareMe is dead simple to use. Enter the quantities being measured, their price, and tap the large Compare button. Discounts can be applied with a few extra taps, so factoring in sale pricing is a breeze. CompareMe includes plenty of units of measurement, so determining savings between, say, ounces and gallons is certainly faster than calculating it mentally.
Graphically, CompareMe eschews visual frills for utility. The entire application has been designed for speed—buttons are large, text is easy to read, and color-coded results are instantly understandable. Adding prices and quantities is done via a number pad, making it extremely fast. I only wish the app included a a list of "favorite" measurements: I rarely need to compare hectares, for instance, but comparisons of ounces, pounds, and yards come up a lot more frequently.
There is a lot to be said for "wow" applications, which dazzle with special effects but lack functionality. For my part, applications which quietly do one task well are true "must have" applications. CompareMe is one of the latter.
CompareMe is compatible with any iPhone or iPod touch running the iPhone 2.x software update.
[Kate Dohe is a graduate student in library and information science at the University of Hawai'i in Honolulu; she works with the Laboratory for Interactive Learning Technologies as a designer and site administrator.]
Note: When you purchase something after clicking links in our articles, we may earn a small commission. Read our affiliate link policy for more details.