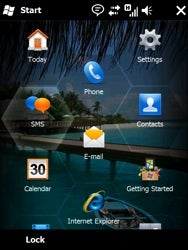 Only mere hours after Microsoft announced Windows Mobile 6.5 at the Mobile World Congress in Barcelona, an unnamed phone loaded up with the brand new mobile OS was lifted from the pocket of a Telstra executive.
No doubt, this unnamed Australian telecom dude must feel pretty sheepish right about now. His boss, CEO Sol Trujillo, had entrusted him with the phone; Trujillo, in turn, had been given the device by Microsoft to test it before the launch. What a clusterfrak. There's just a chain of disappointment there.
When the iPhone first debuted, it was displayed under heavy glass (with black-clad Apple snipers trained to fire on anybody who got too close to the displays). That's some serious fortification. None of this executive hot potato business, no sir.
Astute readers will remember that about a month ago, word had leaked about Microsoft's new answer to MobileMe (called SkyBox) and the App Store (called SkyMarket). That was embarassing, but understandable. But getting an actual prototype phone stolen? That's the kind of ridiculousness that's usually the province of government bureaucracy.
I bet Windows Mobile 6.5 hits BitTorrent within the next few days, if it hasn't already.
[via Apple 2.0]