Expando, a $2 app from HappyAppy with a feature-limited free version also available, exploits the iPhone's touch screen and accelerometer to create a silly, simple, and addictive game.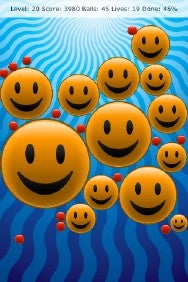 Gameplay is genuinely amusing, and trippy to describe: As you press your finger on the screen, a yellow smiley face begins to expand beneath it. The longer you keep your finger in place, the larger the face balloons. But if one of the tiny red dots that's bouncing around the screen crashes into your happy face as it's expanding, it pops. You need to grow enough faces to cover 67 percent of the screen to complete each level. If you run out of "lives" (the number of popped faces allowed), or "balls" (the maximum number of faces), you lose.
Though those evil red dots float all over, the happy faces you're growing exhibit gravity. As you move your phone, they slide around. Tilting the phone can trap the red dots, giving you much-needed space to grow additional faces.
Ridiculous? Sure. But fun? Absolutely! Levels become increasingly manic with more and more popping red dots on the loose. The game features gorgeous backgrounds, and sports ten separate gameplay modes (e.g., "Easy," "Timed," "Instant Death," "No Gravity"). You can continue your game if you get interrupted, and high scores are saved.
Expando is an easy game to learn, and when your friends see you playing, they'll undoubtedly demand their own turn. The game's inexpensive, enjoyable, and a great time-waster to boot.
Expando is compatible with any iPhone or iPod touch running the iPhone 2.x software update.
[Lex Friedman often makes happy faces of his own at https://lex.lexandlauren.com/ ]