Mark/Space has released Fliq 2.0, a new version of its cross-platform info sharing utility for Macs and PCs. A free update for registered users, Fliq 2.0 costs $20.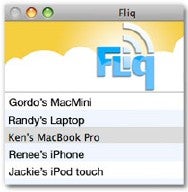 Fliq lets you exchange contacts, photos and notes with other Fliq users over a network. An iPhone app extends Fliq's usability to the iPhone as well.
The new 2.0 release enables users to send tasks from iCal (or Outlook if they're on the PC), and can send files and documents like PDFs and Microsoft Office files, media files and Web archives.
System requirements call for Mac OS X 10.4.9 or later. Photo fliqing requires iPhoto 6.0 or later.