While working on last week's iPhone spreadsheet apps round-up, I discovered Quickoffice's $10 MobileFiles Pro, which allows you to edit Excel files on your iPhone. However, it also has a number of other features, such that I felt it worth covering in its own review. As it turns out, the MobileFiles family consists of three distinct programs, each with different feature sets. The basic intent of each program is the same, though: to let you view and manage many different types of files, directly from your iPhone.
The free MobileFiles lets you view (and/or download to your iPhone) files on your MobileMe disk, or on other users' public MobileMe disks. MobileFiles 2.0 ($4) builds on the free version by adding file transfer support to/from your Mac via a wireless network, and the ability to e-mail files from the program. MobileFiles Pro adds the ability to create and edit Excel spreadsheets, to view iWork documents, and to protect access to the program with a four-digit passcode. This review covers only MobileFiles Pro, not either of the other two versions.
At its most basic level, MobileFiles Pro is a file viewer. The program supports a large list of file types, including most image types; Word, Excel, and PowerPoint files; and PDFs. In addition, it can also view Keynote, Numbers, and Pages files, and standard HTML web pages. Getting these files on to and off of your iPhone can be done in two ways. If you have MobileMe, MobileFiles Pro offers full integration—you can connect to your MobileMe disk and view its files without moving them. Alternatively, you can download the files for local storage on your iPhone.
Read more…
You can also transfer files to and from a Mac using the program's built-in web server. This web server requires a wireless connection, and as seen in the image below, has a clean and well-designed user interface.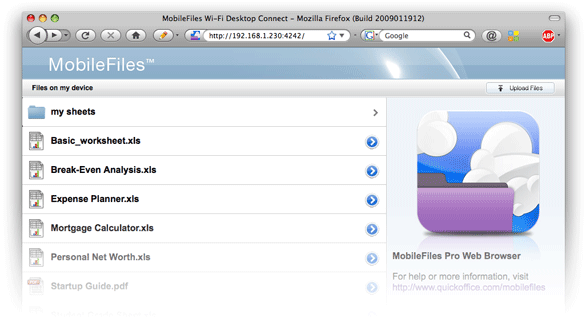 The files stored on your iPhone can be arranged in folders, though you can't rename those folders once they're created. You can also easily delete files you no longer need.
While you can use MobileMe or the wireless connection to move files off your iPhone, you can also do this via e-mail. When viewing a file, tap the small folder icon at the top of the screen to e-mail that file—MobileFiles Pro will zip the file, attach it to an e-mail, and let you address it (with full integration of the iPhone's contacts database) and send it, all without leaving the program.
I tested MobileFiles Pro's ability to open its supported document formats, and for the most part, I came away impressed. Most files were handled well enough to read, though some formatting was lost (for instance) with Word documents. More troublesome were Keynote and Pages files; I found that images in some Pages and Keynote documents didn't load, and I wasn't able to open Keynote files that had been saved as packages (an option in Keynote's preferences). You can rotate your phone for a landscape view, and use pinch gestures to change the zoom level of the viewed file.
Overall, MobileFiles Pro is a good file viewing application, and if you've got a MobileMe account, the full integration makes using MobileMe as simple as using local storage.
Where I really found MobileFiles Pro to shine, though, was in its ability to view and edit Excel files. MobileFiles Pro reads files saved in the .xls file format, but not the newer .xlsx files—you'll need to save your sheets in the older format to use them with MobileFiles Pro. Once in that format, though, MobileFiles Pro does a great job of opening those files—better than any of the programs in the spreadsheet apps comparison.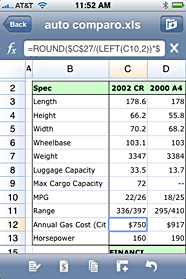 With 125 supported functions, I was able to successfully import files that caused nothing but errors in the other programs. For example, the image at right shows a formula that uses a string function (LEFT) and a numeric function (ROUND). MobileFiles Pro handled this perfectly, unlike every other spreadsheet app in the original comparison.
Even in those cases where a function isn't supported, MobileFiles Pro is smart—it brings in the value from that formula, so that any calculations that are based on that cell will still work, at least until you start changing data. The other programs all caused error messages to appear in these cells, causing other errors throughout the sheet.
MobileFiles Pro also did a great job with cell formatting and highlighting, bringing in the correct shading and cell borders almost all the time. It also supports multi-sheet workbooks and absolute cell references. In short, if you want to view Excel files with the best chance of them looking just as they look in Excel, MobileFiles Pro is your best bet.
Unfortunately, MobileFiles Pro falls short when creating new documents, or editing existing documents. While you can use landscape view, you can't edit in this mode—it's strictly for viewing. There's no way to cut, copy, or paste cells, so rearranging a worksheet is incredibly tedious. When entering a formula, you can't enter a cell's address by tapping, you must type it out. You can, at least, drag the sheet around while entering a formula, though, so you can find the reference you then need to type.
There's no support for adding cell borders, or for changing a cell's font face or size—you can add bold and/or italic styling, but that's it. You can, however, set the cell's background and font colors. Compared with Spreadsheet, the highest-rated program in my spreadsheet apps round-up, zooming in and out in MobileFiles Pro feels slow, especially when zooming out. Scrolling is also slower, and you'll see a lot of blank screen area that only gets filled in when you stop dragging.
These little glitches and feature omissions make editing a spreadsheet with MobileFiles Pro much more work than it should be.
Final thoughts
The ideal spreadsheet application on the iPhone would combine MobileFile Pro's abilities to open a spreadsheet with formulas and formatting intact, and Spreadsheet's great creation/editing feature set. At the moment, however, which program is best for your needs depends mainly on what's most important to you. If you'll be creating or editing worksheets on the iPhone, I recommend Spreadsheet. For opening more-complex existing worksheets, MobileFiles Pro is the way to go. Add in its abilities as a file viewer and file transfer tool, and MobileFiles Pro is a worthy addition to any on-the-go user's collection of useful apps.
MobileFiles Pro works on the iPhone and iPod Touch, running iPhone OS 2.1.
[Senior editor Rob Griffiths runs the Mac OS X Hints Web site.]