Slumdog Millionaire, please collect your Best Picture Oscar.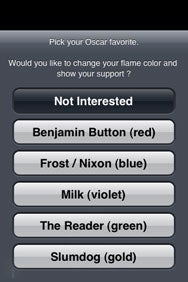 Oh, sure, the 81st Annual Academy Awards won't be handed out until Sunday night. But if the users of the Sonic Lighter app for the iPhone and iPod touch are any indicator, then the makers of rags-to-riches story of a Mumbai teen might as well start memorizing their acceptance speech.
Sonic Lighter is a $1 novelty app that turns your iPhone or iPod touch into a mobile lighter. There's a social network aspect to the app, too, as its developer, Smule, can track wherever someone "ignites" Sonic Lighter anywhere in the world.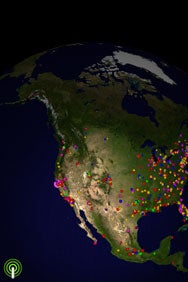 To that end, Smule puts out Sonic Lighter updates that let users weigh in on issues of vital import—in this case the winner of the Best Picture award. As of this writing, Smule's Sonic Lighter map shows Slumdog Millionaire leading the way with 37 percent of the vote. The lamentable Curious Case of Benjamin Button is in second right now with 27 percent, while Milk is in third with 16 percent.
Skeptical about the wisdom of iPhone-toting crowds? Smule notes that past Sonic Lighter surveys have correctly predicted the U.S. presidential election and the outcome of Super Bowl XLIII. (Though to be fair, barring a surprise surge by Ralph Nader either at the polls or on the gridiron, Sonic Lighter really had a 50-50 shot at calling either event correctly, didn't it?)
Other Oscar-themed iPhone apps available for download in advance of Sunday's festivities include: