The App Store is awash in conversion utilities. Count iConvert as one of the better ones. Future Apps' $1 utility will save you from mental math calculations or Google trips whenever you want to know how many miles are in a light year or how many square meters are in a hectare. iConvert effortlessly puts this information at your fingertips.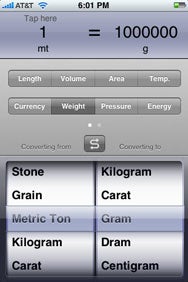 The program is capable of converting length, area, temperature, currency, weight, volume, pressure, and energy. It has an exceptionally user-friendly interface: Just select from one of those categories and use the scrolling wheel to select your measurements. Whether you are an engineer, physicist or a businessman traveling internationally, iConvert provides comprehensive and functional conversions.
The app could stand to be more stable, as iConvert crashed a few times during my testing. I'd also like to see a future update that included more categories—computer data like gigabytes and data transfer speed, say, or scientific formulas. Still, the current version of iConvert offers more than enough conversion tools to satisfy most users' demands.
iConvert is compatible with any iPhone or iPod touch running the iPhone 2.x software update.
[Daniel P. Sama is a systems administrator, network administrator, IT consultant, writer and entrepreneur from Philadelphia.]