Ever since I moved to an electronic gradebook, keeping track of attendance has been a nagging problem. Usually I circulate a sign-in sheet—but sometimes I forget, or let them accumulate before updating my spreadsheet. I've even misplaced one or two.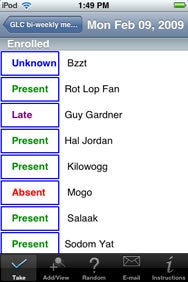 David M. Reed Software's Attendance is designed—by a professor—for people like me, or even more organized people who teach or run meetings. For $3, the app features an intuitive interface for taking attendance, plus a "random student generator" (the better to call on students without picking on anyone) and two ways to report its data.
You can add students manually or by importing them as a group from Address Book. (If the latter, the app grabs students' photos, which makes it easy to learn their names.) Access student records by tapping on their name or by e-mailing yourself a comma-separated report. The app accommodates multiple classes or sections.
Attendance lives up to its name, and is easy to use. Any teacher with an iPhone or iPod touch should give it a try.
Attendance is compatible with any iPhone or iPod touch running the iPhone 2.x software update.]
[A professor in New Britain, Conn., Jason B. Jones also writes on books, higher education, and technology. His Web site is The Salt-Box.]
When you purchase through links in our articles, we may earn a small commission. This doesn't affect our editorial independence.