Digital Eel has announced the release of a Mac version of Brainpipe: A Plunge to Unhumanity. It's available for $15 and a demo is available for download.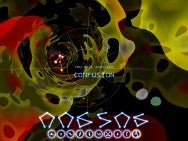 Brainpipe is a colorful, psychedelic 3D action game in which you descend a tunnel filled with obstacles you must maneuver to avoid, while trying to capture glowing glyphs. Capture enough of them and you'll pass to a new level of consciousness. Fail, and you'll lapse into a coma.
The game features startling visual effects and a custom soundtrack, can play in full screen or windowed mode. and features 10 levels of progressively more difficult action.
System requirements call for a G3/700MHz or faster, 128MB RAM, Mac OS X 10.2 or later, 40MB hard disk space and 3D graphics support with 32MB VRAM.