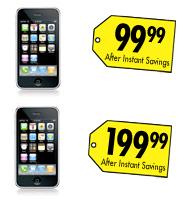 If $99 for an 8GB iPhone sounds too good to be true—well, it kind of is. The latest offering comes from Best Buy, which is selling both the 8GB and 16GB iPhones for $100 off their respective retail prices. And unlike similar past deals from AT&T, these are brand new phones, not refurbished units.
Of course, there's a catch. There's always a catch. In this case, the deal is only applicable if you are a Best Buy Premier Silver Reward Zone member. If you're wondering what a Best Buy Premier Silver Reward Zone member is, then you've played right into their hands. Really, the only prerequisite for Premier Silver "status" is that you have to have spent $2,500 at Best Buy during a calendar year. Like the old adage says, folks, you've got to spend money to…spend…money.
Anyway, in order to take advantage of this amazing deal, you need to have been a Reward Zone member by February 21st, so don't think going out and buying yourself a brand new MacBook Pro this week will make you eligible. The price is also only good through February 28th, requires that you go to the store, and, of course, means you have to sign up for a two-year contract with AT&T, so don't think you're sneaking out of that. There's plenty more fine print at the link above, so I'd guess there are a lot of people who won't be able to take advantage of the offer.
Note: When you purchase something after clicking links in our articles, we may earn a small commission. Read our affiliate link policy for more details.