MCE Technologies announced Monday that it is shipping its OptiBay hard drive for "unibody" MacBook and MacBook Pro systems. Prices start at $190.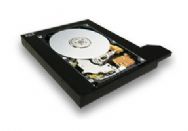 The OptiBay is a second hard disk drive that is installed internally in the MacBook or MacBook Pro. It replaces the optical disk drive, providing users with increased internal storage capacity or RAID performance or reliability.
MCE previously offered the OptiBay upgrade for older MacBooks, MacBook Pros and PowerBook G4s. Now the OptiBay has been vetted for use in Apple's most recently-redesigned MacBook and MacBook Pro models. The drive operates using Serial ATA (SATA), the same interface that's used by the regular internal hard disk.
MCE offers the OptiBay in a variety of storage capacities and performance targets—250GB/5400RPM, 320GB/5400RPM, 320GB/7200RPM and 500GB/5400RPM. It responses to S.M.A.R.T. status commands and is fully compatible with Apple's Disk Utility software and all applications and the operating system—it's also bootable.
MCE also offers an external drive enclosure kit for the "SuperDrive" optical drive that's removed by this installation, so you can continue to burn discs and read optical media.
Note: When you purchase something after clicking links in our articles, we may earn a small commission. Read our affiliate link policy for more details.