This may be a shocking revelation, but men and women have different physical fitness needs. Yet, among the plethora of fitness applications available on the iPhone, few include workouts designed for women. The free NikeWomen Training Club application attempts to fill this void with a variety of exercise routines for women.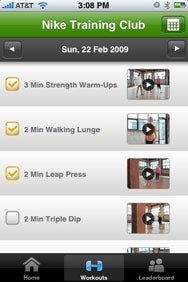 To use Training Club on the iPhone or iPod touch, users must first create an account, select a cartoon avatar, and choose a workout program on Nike's Training Club Web site.
Each individual routine is made up of a checklist of short instructional videos, which require an Internet connection to play. While the videos are decent quality and fast to load, they are far too short to exercise along with, making it very inconvenient to track the duration of each exercise segment. It would also be helpful to see what equipment is needed before starting a routine, rather than stopping halfway through to go on a scavenger hunt for a medicine ball. Finally, there is no way to customize or even reschedule a routine.
As an instructional application, Training Club is off to a good start with challenging routines and a fun interface. However, to be a first-choice exercise application for women, Nike's app needs to do more than show exercise routines and make it easier to actually complete them.
NikeWomen Training Club is compatible with any iPhone or iPod touch running the iPhone 2.2 software update.
[Kate Dohe is a graduate student in library and information science at the University of Hawai'i in Honolulu; she works with the Laboratory for Interactive Learning Technologies as a designer and site administrator.]