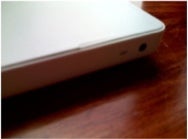 I really don't know what's going on with Apple's manufacturing process, and perhaps this has changed with the new unibody MacBook design, but my last two MacBooks (purchased in March 2007 and February 2008) both suffered from the problem of crack on near the right hand palm rest corner, just as Dan described back in August 2007.
My current machine (the Feb '08 one) is just barely under warranty and I'm going to get its case replaced as soon as I return to the U.S. in May.
A recent commenter over at MacInTouch says that he's now on his eighth case and Apple has finally caved and given him a new machine. Meanwhile Cult of Mac's Giles Turnbull writes that he's on his second case, and points to a Flickr group devoted to documenting this scourge. How are you faring, MacBook users?
[For what it's worth, I got the crack in my case fixed at my local Genius Bar. They should do it for free even if the MacBook is out of warranty, since it's classified as a defect (mine was a first-generation MacBook from 2005 with no AppleCare); it just involves putting a new top case on the machine. My Apple Store even did it while I waited; took about an hour. The unibody MacBooks obviously don't suffer from this problem, due to their construction process. -DM]