Hardware was by no means in short supply at this year's Worldwide Developers Conference. Not only did Apple launch three new Macs but there was also that little matter of a revolutionary spatial computer. But just as the company uses its annual gathering to show off what software features are coming down the road for its platforms, it turns out that it's also the ideal occasion for Apple prognosticators to read between the lines and see what additional hardware devices might lie just beyond the horizon.
This year, more than most, shed some light on a few places that Apple might be looking to expand its footprint–notably in the home. That's a market where Apple has staked a few meager claims in the past, but hasn't really invested in expanding over the past several years. But if this year's software news is any indication, that may be about to change.
StandBy for launch
It's not every day that Apple launches a novel interface for its most popular device, but the company managed to slip one in while dishing about iOS 17. The new StandBy mode takes a page from the Apple Watch's Nightstand feature. When your iPhone is charging and in landscape, it can display information in a large, glanceable format. That could be as simple as a clock, or as complex as a Smart Stack of widgets.
This feature made me sit up in my seat at the keynote, because it sure seems as though this would be the ideal way to present information on a HomePod with a screen. Apple's competitors in this market, Amazon and Google, have offered their own takes on that kind of device over the past few years, but Apple has stuck steadfastly to the utterly display-less HomePod and HomePod mini, despite recurrent rumors that the company is working on a version with a screen.
Foundry
Adding a display to the HomePod opens up a ton of possibilities, especially with two key features that Apple's implementing: support for Live Activities, which can offer proactive and timely information (such as viewable timers or sports scores), and—best of all—the ability for Siri to display query results onscreen. To every HomePod owner who's been repeatedly frustrated by having Apple's voice assistant report that it sent more information to your iPhone, this seems to finally deliver on the idea of an ambient computing platform that truly lets you go hands-free.
Maintaining Continuity
The last few revisions to the Apple TV have been fairly minor, but with tvOS 17, Apple is also hinting at a potentially bigger move to come. The company's announcement of Continuity Camera support for its set-top box finally transforms the device into a usable appliance for video calls, by allowing people to use their iPhone or iPad as a camera and microphone.
As someone who has weekly Zoom calls in their living room, this is welcome news. There have been reports over the years that Apple is working on an Apple TV with a camera for just such a purpose, and while I'd welcome such a device, the implementation of this feature has me wondering whether or not there's a need for it. I'd wager most Apple TV owners already have an iPhone or iPad; the idea that Apple would build a camera and mic directly into an Apple TV seems odd: where would it go? Would that even make sense with where most people put their set-top boxes? It seems even more unlikely that the company would build an external camera and microphone unit for you to place somewhere else.
Then again, this might be an opportunity for Apple to see whether such a device would get any traction in the marketplace. The company will no doubt be able to see how many users take advantage of this feature for both FaceTime and third-party video conferencing options; if it's a hit, then maybe another hardware device could be in Apple's future.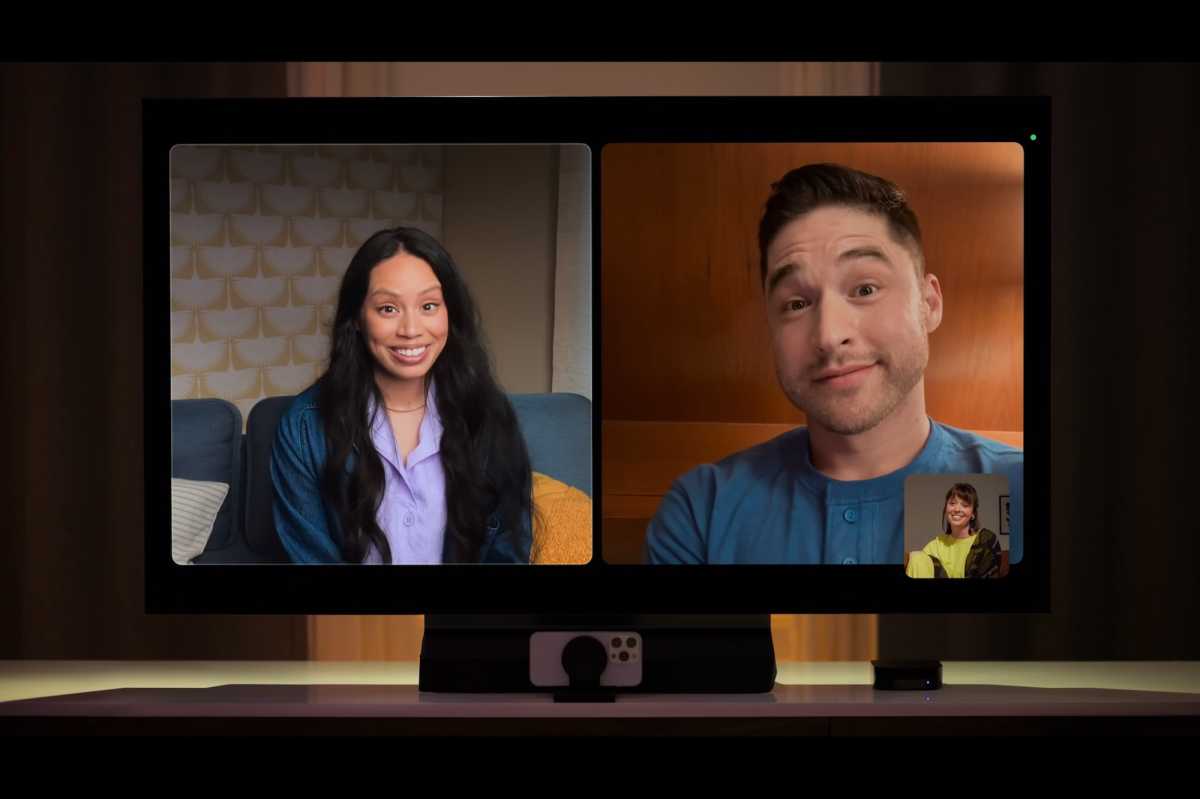 Apple
Preparing for DockKit
Speaking of videoconferencing appliances, there was one other interesting tidbit that didn't garner keynote time but could play a major role in an Apple product for the home: DockKit. This development framework allows apps to work in concert with motorized iPhone docks, enabling them to track the subject of a video around a room. Similar technology has existed in products like Meta's Portal videoconferencing device.
Apple, of course, doesn't make a motorized iPhone dock of its own, but whenever it opens opportunities like this to third parties, it's generally worthwhile to ask whether there's a first-party reason for the technology. In this case, it's not hard to imagine a future Apple videoconferencing device that can follow you around the room–a hardware version of the company's Center Stage feature. (Why go through the trouble of building hardware if Center Stage already exists? For one thing, a motorized dock supports 360 degrees of panning, while Center Stage is limited to whatever direction the device's camera is facing.)
Now, bear with me as I go out on a limb: maybe these aren't separate devices, but rather a single new device with a movable camera for videoconferencing and a display for status information. With Siri onboard you have yourself an ambient computing device that can handle a ton of different tasks that users might otherwise have needed to pull out their iPhone or iPad to do. Maybe, at long last, Apple can really justify putting that "home" in "HomePod."