Other World Computing (OWC) on Tuesday announced the release of an 8x external Blu-ray Disc drive compatible with Macs and PCs. The drive costs $400.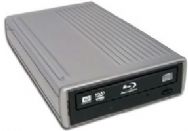 The Mercury Pro Blu-ray External Drive features four interfaces to connect to a Mac or PC—USB 2.0, FireWire 800 and FireWire 400, and External Serial ATA (eSATA). The drive can burn up to 50GB of data on a single dual-layer BD-R disc.
Blu-ray Disc is a high-capacity optical media format used by new High Definition (HD) media players. Although the Mac isn't capable of playing Blu-ray Disc movies, it can use such devices for storage. The drive also works with DVD-RAM, DVD Dual-Layer and Single-Layer discs, DVD R/RW and CD-R/RW media.
The $400 package includes the drive, connection cables and two 25GB BD-R discs. OWC also offers a $480 package that adds includes the full retail version of Roxio Toast 10 Titanium, a CD and DVD burning application for Mac OS X.