If you're using iWeb to create a Web site for your small business, you may want to check out iPresentee's new iWeb Themes for Business 3.0. They cost $10 each; a set of five is priced at $30.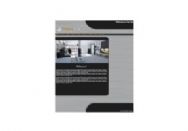 iWeb Themes for Business includes five new themes — Chess, Columns, Inside, Ribbon and Space Frame. Each theme includes nine templates for creating different types of Web pages.
Each theme incorporates different backgrounds, and they include an extended number of templates (ordinary iWeb themes only include seven). The extra templates are Gallery, for publishing a photo grid that lets you organize photos and captions, and Events, a template for adding information in blog or journal format. Other templates include Home, About Us, Services, Support, Clients, Contact Us, and Blank.
iWeb Themes for Business includes an installer.
iWeb Themes for Business 3.0 works with iWeb 2.0 or iWeb 3.0.
Note: When you purchase something after clicking links in our articles, we may earn a small commission. Read our affiliate link policy for more details.