Scosche Industries has announced the release of its Passport Home Dock, a charging adapter for iPod docking stations that enables them to work iPhone 3G, iPod touch second-generation and iPod nano fourth-generation. It's coming in March for $40.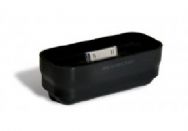 Devices equipped with older-style iPod docks may not support USB 5-volt charging, thus preventing newer iPhones, iPod nanos and iPod touches from recharging their batteries. The Passport Home Dock overcomes this limitation. It also accepts the inserts that are included with every iPod for a custom fit.
All video, audio and data functionality is passed through, according to Scosche, but "if the iPod dock does not initially support the audio or video functionality, the Passport Home Dock will not enable these features," the company warns.