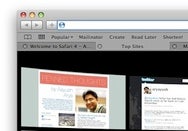 Being a self-confessed software addict, I'm always first in line to check out the latest versions of Mac applications that I regularly use. Needless to say, when it's a major update to my single most frequently used application we're talking about, the excitement levels bounce to all time highs.
And so it was with great anticipation that I downloaded the Safari 4 public beta and started checking out the various new features. For the most part, it is a great update, with several bells and whistles, such as Cover Flow viewing of your history and bookmarks and a swanky pseudo-3D view of your most-frequented websites.
However, this version of Safari incorporates some user interface changes that seem like they've been put in place just for the sake of novelty. The blue inline progress indicator that Apple introduced with the first version of Safari has now been replaced by the circular OS X progress indicator and the Refresh button has been moved to the right and inside the address bar, mimicking Safari on the iPhone.
Perhaps most annoyingly, the tabs have now been moved to the top of the window, à la Google Chrome, giving you a tiny little bit of extra horizontal vertical real estate. This necessitated further changes: you can only move tabs around by grabbing the small triangular area on the top-right corner of each tab (which look nonsensically like window resize handles); click and dragging anywhere else moves the whole window.
Fret not, though. If you're not a fan of this new implementation, Alfred Wong has posted a simple way to get the "normal" tab bar back in Safari 4. All you need to do is launch the Terminal, type in the following command, and hit return:
defaults write com.apple.Safari DebugSafari4TabBarIsOnTop -bool NO
Once that's done, quit Terminal and then quit and relaunch Safari. If all goes according to plan, you should now get the old tab bar back in Safari 4. We haven't yet heard of any way to revert the Refresh button or bring back the old (and much more useful) inline progress indicator, but this is definitely a step in the right direction (even if it's backwards).
Update: Here's a list of all the command line options for Safari 4, including how to return the progress bar and default toolbar to their Safari 3 states, courtesy Daring Fireball.