CCP Games' EVE Online has been available for years as a download, and next month it's making its grand return to retail store shelves. The retail box version will hit store shelves on March 10, 2009 for $35.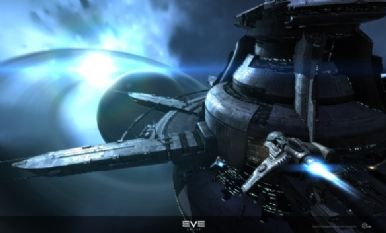 EVE Online is a massively multiplayer online game set in outer space. It debuted for the Macintosh late in 2007. The game puts you in the cockpit of an interstellar spacecraft and is a "sandbox"-style MMO that lets you do whatever you want — you can be a pirate, lead trading missions, engage in research and development, manufacturing and many other activities. There's also a strong emphasis on commerce — the game features a very detailed trading market with commodities, skills, finished goods and more available for in-game sale.
CCP Games has partnered with Atari to bring EVE Online back to retail store shelves, and Atari will begin selling a boxed version next month that combines the Windows and Mac versions together. It includes all nine previously-released expansion packs plus the tenth pack, entitled "Apocrypha," which will also be released to players of the online version.
Apocrypha introduces new elements to gameplay such as unstable wormholes that let players gain access to previously unexplored regions of space, and modular ships that advanced players can tailor-build to suit their needs. CCP Games will continue to produce expansion packs as free-of-charge updates for all subscribers, regardless of whether they download the game or buy it from retailers.
The boxed version of the game includes 60 days of free game time (either 60 days for a new account or 60 days added to an existing account); users can even split the time into two 30-day time codes known as "Pilot License Extensions" (PLEX) that can be sold to other players in the in-game market for ISK, EVE Online's in-game currency.
New account holders also receive special in-game items, including Instant War Access, which provides players more rapid access to organized combat; an exclusive Career Guide with insider tips and tricks; a VIP pass that lets you invite a friend to try the game free for 21 days; and an exclusive in-game ship, the Interbus Shuttle (which provides players with increased cargo holding capacity over the standard game's shuttle).
Note: When you purchase something after clicking links in our articles, we may earn a small commission. Read our affiliate link policy for more details.