Digital media has become such a large part of most of our lives that it's hard to imagine not sharing it with other people or taking it wherever we want. iTunes makes it easy to manage our media with devices by Apple, but wouldn't it be nice if there was something as easy for other devices?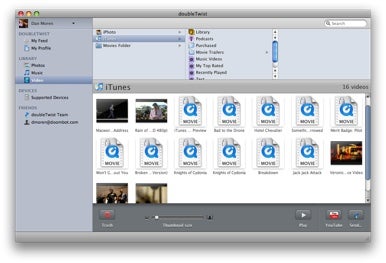 That's the goal of doubleTwist, the brainchild of Jon "DVD Jon" Lech Johansen. Now available for download on the Mac (before the Windows version, to boot!), doubleTwist combines an online service and a desktop app that has access to all of your media. It lets you play your media and share it with others, either via integration with sites like Facebook, Flickr, and YouTube, or over doubleTwist's own service. You can also plug in a supported device—the demo shows it being used with a T-Mobile G1, but there are apparently many others with more on the way—and doubleTwist will convert the media to the appropriate format for that device and transfer it.
Users have a feed that shows the media they and their friends are sharing with each other. Media shared via doubleTwist can be streamed via the service's Web site or from inside the application, if you're sharing with another doubleTwist user.
There are still some shortcomings in this first version. For one thing, iPod and iPhone support is currently only supported in the PC client (itself in private beta), though it's expected for the Mac in short order. doubleTwist's media playback capabilities are also pretty lackluster compared to iTunes or most modern media players, for that matter. As is to be expected, there's also no support for DRM-protected files (fortunately, that's mainly restricted to video these days).
It's an interesting idea, and one worth following as the intersection between social networking and media gets ever more prominent. The doubleTwist team also seems to be committed to the Mac (despite the fact that we'd thought for sure the Windows version had launched last year, albeit with a bunch of DRM-cracking features that are nowhere to be found here). New features will be rolling out to OS X first, and if you try to download the Windows version (as I did, with some browser trickery), you'll be invited to go buy an Apple computer. Nice.