Tuesday's release of a Safari 4 public beta is a radical departure from previous Apple interfaces, not just in Safari but in Mac OS X as a whole. Out goes the standard Mac OS X window bar, replaced by a window bar that serves double duty as browser tabs by sectioning itself up into smaller segments.
It's a big change that helps Apple tout Safari 4 as " the world's fastest and most innovative browser." Which it would be were it not for the fact that almost six months ago Google announced Chrome, its own innovative browser that features — among other features — tabs on top, above the browser's URL window and control buttons. (See the addendum at bottom for a clarification on who "invented" tabs on top.)
So when I first saw Safari 4 Tuesday morning, I couldn't help but think that the arrival of Chrome must have had a big impact on the Safari team. I'm not saying that Apple's engineers saw Chrome's tab interface and decided to rip it off—for all I know, the Safari team was working on the very same concept in parallel. But I do think that Chrome, when viewed as an attempt to change the way people think of and use web browsers, must have been a spur to a company that's accustomed to being at the forefront of software innovation.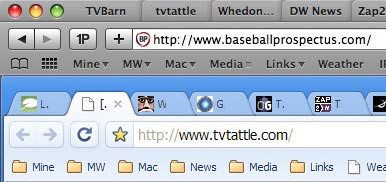 As Ars Technica's John Siracusa wrote back in September when Chrome was announced:
Chrome [is] "a wake-up call for the Safari UI guys." It's not that any particular feature of Chrome is so wonderful… It's the idea that someone other than Apple has taken such clear leadership in this area. Google Chrome makes Safari's user interface look conservative; it makes Apple look timid. And when it comes to innovation, overall daring counts for a lot more than individual successes or failures on the long-term graph.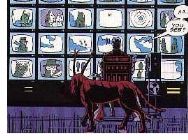 And so here we have Safari 4, with its weird new tab interface, with bookmark and reload buttons integrated into the URL window itself, and a snazzy Top Sites view. The Top Sites view is, of course, reminiscent of Chrome's "Most visited" view—it's a start page containing your favorite sites. However, Top Sites is definitely constructed with Apple panache, using 3-D styling to present your top 12 sites in a curved interface that will make you feel just like Adrian Veidt monitoring the world's media from his Antarctic redoubt.
Apple's made a lot of strides in Safari 4, as well as introducing some new features that will take some time getting used to. Some of them might end up being duds, but others will no doubt become ones we rely on regularly.
Whether or not the individual features of Chrome inspired Apple, it's clear that Apple isn't going to let Google have the lead in browser innovation without a fight. And the more innovation that happens, the better it will be for users of Web browsers—which at this point is pretty much everybody with a computer! So it's a big deal.
(Stay tuned for our first look of Safari 4, which we'll be posting soon.)
Addendum: Reader Faruk Ates points out that "tabs on top" began with Opera. Fair enough, but I'm not sure anyone cared that Opera did it. (Sorry, Opera fans.) Google's announcement of Chrome — a completely new browser dedicated to shake up the browser world and with the strength of Google behind it—is what I feel shook up Apple, as I wrote above. Even if Opera pioneered some specific features, I don't think Opera was what motivated Apple to chuck out all Mac OS X UI conventions and stick tabs in the window bar. In my opinion, it was Google and Chrome that did that, not Opera. Is this yet another case of the true innovators in a category being ignored when their inventions are hijacked by companies with better PR and bigger budgets? I won't deny it.