At a Glance
Expert's Rating
Pros
Image stabilization in camera body
Unique features such as Multiple Exposure and Digital Leveler
Support for multiple aspect ratios
Exposure bracketing in three or five frames
Real-time focusing in Live View mode
98 percent field of view through optical viewfinder
Cons
No movie mode
Battery charger requires cord instead of plugging directly into wall outlet
Our Verdict
The new E-30 digital single-lens reflex camera (SLR) from Olympus combines a solid feature set with a truly creative personality. Its foundation is comprised of a sturdy body design that feels comfortable in the hand; a swing-out 2.7-inch LCD, 12.3-megapixel image sensor (providing plenty of resolution for 13-by-19-inch prints); and sensor-based image stabilization. The E-30 also packs a handful of surprises that, when combined with its standard features, should meet the expectations of serious photographers.
The surprises start with the E-30's Digital Leveler, which detects the camera's pitch and roll and indicates it in the viewfinder. This provides you with a digital level built into the camera, making it easier to square up your shots. If you enjoy shooting panoramas or architecture, you'll find this feature indispensable. Even though the E-30's native aspect ratio is 4:3, it can also capture images in eight additional perspectives: 16:9, 6:6, 3:2, 5:4, 7:6, 6:5, 7:5, and 3:4.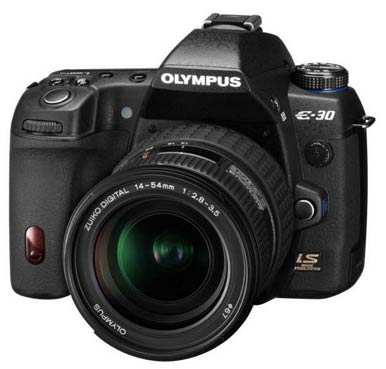 The Face Detection system can recognize up to eight faces in a composition, then optimizes exposure and focus to render everyone in the shot clearly. To help keep distracting dust specks to a minimum, the built-in dust reduction system uses what Olympus calls a Super-Sonic Wave Filter to remove those tiny particles before they show up in your pictures. And the E-30 includes Shadow Adjustment Technology that provides exceptional shadow and highlight detail, even in the most difficult lighting conditions. This technology was licensed from Apical and its intent is to make photographs look as much as possible like the world as we see it with our eyes.
Art Filters and Multiple Exposures
The E-30's Art Filters and Multiple Exposure functions are two unique features that I hadn't seen before in an SLR. Both take advantage of Live View technology that enables you to compose and capture images via the LCD instead of the optical viewfinder.
With Art Filters, you can apply image effects within the camera, bypassing the need for artistic post-production. Olympus provides six Art Filters in the E-30:
Pop Art: A highly saturated 1960s look.
Soft Focus: Similar to an optical softening filter of the sort often used for portraits.
Pale and Light Color: Converts image to a pastel, flatly lit photograph.
Light Tone: Opens up shade and highlight areas to provide a more airy portrayal.
Grainy Film: Increases contrast and adds grain.
Pin Hole: Emulates the effect of shooting through a pinhole.
Because Art Filters are applied at the time of capture (you're limited to single-shot mode), the E-30 is able to factor in exposure and other variables when rendering the image. For example, when you're using a traditional optical softening filter, contrast is usually greatly reduced, and often needs to be restored in post-production. But the E-30 is able to maintain good contrast while applying the Soft Focus Art Filter.
The resulting Art Filter output is a JPEG image file, but you can have it both ways if you shoot in RAW + JPEG mode. The E-30 provides you with the creatively processed image and the original unaltered version too. When you have Art Filters enabled, you're required to shoot in Live View mode. The upside is that you get to preview the effect before snapping the shutter. But it does feel a bit odd using a digital SLR in Live View mode for a model shoot or other serious assignments.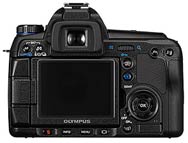 Another fun tool is the Multiple Exposure function, which allows you to combine up to four captures on to one file so you can combine different elements into a single image. For example, imagine that you want a picture of a large full moon hanging over your apartment building. You could take one shot of the building with the zoom set wide to capture the entire structure; then, in Multiple Exposure mode, you'd move the zoom to the telephoto end and take a picture of the moon. Both images, at different focal lengths, would be combined into one picture. This approach is easier with the E-30 than it would be with traditional film cameras because capture is rendered on the LCD so you can more easily compose the next shot. You don't have to guess the placement of the moon; just put it exactly where you want it.
The E-30 also supports combining images in playback mode. And because it provides two memory card slots (CF and xD-Picture Card), you can maintain a library of stock images on the xD card, then combine them with recent images recorded on the CF card to create multi-image compositions whenever you want. So if you have that terrific full moon shot stored on the xD card, you can apply it to many more compositions over time.
Image quality
RAW files captured with the E-30 and processed with the bundled Olympus software showed good detail and excellent color rendering. (E-30 RAW files can also be processed in the current version of Photoshop CS4.) The Olympus TruePic III+ Image Processor also performed respectably at the higher ISO settings (ISO 3,200 is the top setting). Generally speaking, the E-30 compared well at ISO 1,600 to Canon's 5D Mark II ( ) at ISO 3,200, keeping in mind that the 5D Mark II costs twice as much as the E-30 and uses a full-frame image sensor.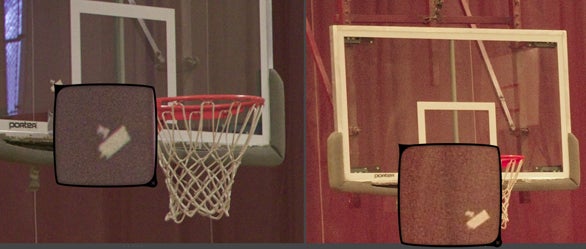 Specifications
| | |
| --- | --- |
| Resolution | 12.3 megapixels |
| Battery Type | Rechargeable lithium-ion battery |
| Media Slots | CF memory card, xD-Picture Card (dual slot) |
| Size in Inches (wxhxd) | 5.6 x 4.2 x 3.0 |
| Weight (oz.) | 23.1 oz (body) |
Macworld's buying advice
In terms of image quality, performance, features, and design, the Olympus E-30 stacks up well against other digital SLRs in the $1,300 price range. Its creative features are plus, and I very much liked having the swing-out LCD screen. I was a little surprised that the E-30 does not have a video capture mode, since it seems perfectly designed for recording movies. But that nit aside, I think this is an excellent tool for creative photographers who want professional features at a reasonable price.
[Senior Contributor Derrick Story is the author of The Digital Photography Companion (O'Reilly Media) and hosts a weekly photography podcast on www.thedigitalstory.com.]