Sawblade Software has announced the release of Power Game Factory 1.1, a new version of its game creation tool. It's a free update for registered users. Power Game Factory costs $54 and a demo is available.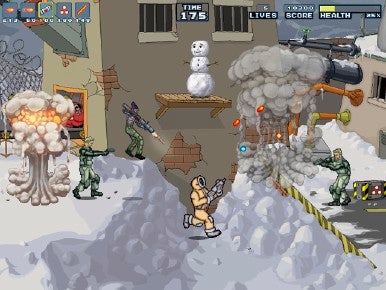 Power Game Factory helps you make your own side-scrolling action game, similar to the ones made famous during the heyday of 8-bit and 16-bit video game consoles like the Nintendo Entertainment System and Sega Genesis.
What makes Power Game Factory unique is that you don't need to know how to program — you can create games using your own artwork, and a visual interface provides you with access to different game levels, character and player sets, the interface, status bar, items, weapons and more.
Each game generated using Power Game Factory can be compiled into a self-contained game application that you can distribute without having to pay any royalties.
New to the 1.1 version are 55 separate new features and enhancements, including built-in sprint painting tools, enhanced character physics and the ability to create Universal binary apps that run natively on Intel-based Macs.
The source code for Power Game Factory's game engine is also being included in this release, so experienced developers can expand their game making options.
System requirements call for Mac OS X 10.4 or later, G4 or better, 1GB RAM, 4GB hard disk space, ATI or Nvidia graphics.