I deal with a fairly large volume of e-mail, and I like to sign messages differently depending on the recipient and the context. In my desktop e-mail client, I solve this problem by storing multiple signatures in SmileOnMyMac's TextExpander and inserting them via keystroke shortcuts. But on my iPhone, I've been making do with the one auto-signature that the Mail app provides. Besides being rather limiting on the business side, my wife makes fun of me when my personal e-mails are signed with a business-like signature. ("Honey, like I don't know your last name and phone number?") So I had high hopes that, if nothing else, iSignature from AL Software would help cut down on the domestic ridicule.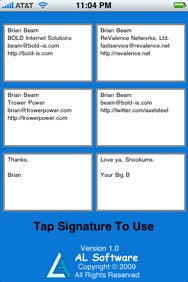 iSignature gives you the ability to have six canned signatures for the Mail app in the iPhone and iPod touch. The first time you launch iSignature, it tells you that you need to setup your signatures, which are stored in your iPhone's global settings. Tap over to the Settings screen, scroll down to the bottom and find the icon for iSignature. Tap that and you're presented with six boxes—one per signature—each containing three lines of text. Just replace the placeholder text in each box with the signatures you want to use on your iPhone.
If you only want one or two lines in a signature, you need to delete the extra placeholder text; otherwise, it will be included with that signature. What's not so obvious, though, is that you're not limited to only three lines; you can create a new line anywhere you want by inserting a new line character (n). You can also insert basic HTML and special characters. Both are very handy features.
Once you've created your signatures, you can use them in any Mail message. First, open iSignature to display your signature choices and then tap on the one you want. The app will close, and Mail will open with a new message window containing that signature in the body.
The process of adding a signature to a reply or forward is slightly different. First, open Mail and reply to (or forward) a message as usual. (Don't type anything yet, though.) With the reply/forward message window open, press the Home button to close the Mail app. Now, tap on iSignature to display your six signature options. As soon as you tap on one of your signatures, iSignature will zip you back into Mail and place that signature at the top of your reply message, above the quoted text.
If you make the mistake of completing a message before selecting your signature, you're out of luck. There's no apparent way to tell iSignature to insert a signature at the cursor's location. It's the top of the message window or nothing. If you can live with this imposed workflow, then iSignature works just fine.
The program's interface isn't particularly beautiful, but I didn't find that bothersome. Since inserting a signature requires moving between Mail and iSignature, you want that to happen as quickly as possible—eye candy would just slow things down. Despite the minimalist interface, though, it would be nice if AL Software could make the app work a tad faster. I found that my signatures appeared somewhere between two to three seconds after launching the app—not super speedy but still usable. The app also seems very solid; I've experienced no crashes with it so far.
iSignature is still very much a 1.0 product, though it's my hope that AL Software will continue to improve upon a serviceable first effort. I plan to keep it on my home screen right above the Mail icon. I just have to remember to be extra careful to select the right signature when I create my messages; I really can't risk signing an important business message with "Love ya, Snookums. -Your Big B."
iSignature is compatible with any iPhone or iPod touch running the iPhone 2.x software update.
[Brian Beam is a web developer, guitar player and animal lover living somewhere near Kansas City.]