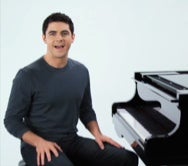 Apple's got a fondness for using real people to demonstrate its products, whether it be in its advertisements or in the video tutorials it posts. For the latter, the company tends to use its own employees—for example, the "Bob" of the iPhone videos is actually Bob Borchers, Apple's senior director of worldwide iPhone product marketing.
But that isn't the case with the musical instrument lessons that Apple included as part of iLife '09's Garage Band. The teacher—there are those who call him "Tim"—is actually Tim Blane, a singer-songwriter based in Boston.
Blane auditioned for the gig after getting an e-mail from an Apple employee who'd seen his gig online and invited him to apply for the job—along with almost a thousand others.
Fortunately, Blane nabbed the coveted gig; he was handpicked by Steve Jobs himself to bring a little music into all of our lives—despite the fact that he'd never actually taught music in his life. Still, he's an accomplished musician in his own right; you can check out his three albums in the iTunes Store to see for yourself.
[via Boston Globe]